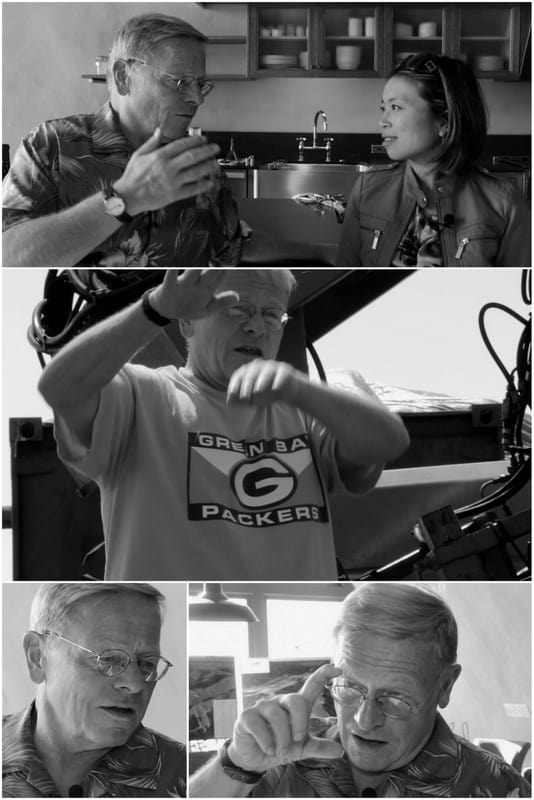 "That kind of witchcraft and voodoo holds back true knowledge."
T.J. Rodgers doesn't put much stock in biodynamic farming. This is a winemaker and Silicon Valley personality clearly motivated by knowledge and science. And, as you'll learn after spending a few minutes with the driven entrepreneur, he is on a mission to make the New World's best Pinot Noir.
A lack of science can hurt art.
Of all the people we met in Napa, Sonoma and Livermore for Stark Insider TV segments this year, Rodgers would easily be the top candidate if the wine industry was looking for their very own "Q". Why settle for convention when envelopes can be pushed? When he couldn't find a tractor capable of harvesting his steep vineyards at the grounds of Clos de la Tech (located in the Santa Cruz mountains), he flew to Germany and had one custom designed. Years later he had created his own mathematical formulas for just about every aspect of the winemaking and vineyard management processes: root density, siphon run-offs, wine press effectiveness. During the interview this summer the numbers, formulas and theorems came in droves.
Rodgers first dabbled in wine, planting vines in his backyard and giving away bottles to his CEO buddies, before picking up a piece of land in the '90s for $800,000 – a veritable bargain for 160 acres of land. "I mailed her the money," he says. "The deal was done." Though many will know him from his past (and at times controversial) appearances in Washington, testifying on behalf of the tech industry, he's quickly made a name for himself in wine. Earlier this year, he completed the world's first wireless winery. The $3.5 million network which he designed and donated is installed at UC Davis.
Today, Clos de la Tech in its eighth offering, producing about 1,000 cases per year. Still "boutique," but as Rodgers asserts, "Once you hit eight figures [of investment] it's no longer a hobby." The Pinots range in price from $42 to just over $100. If you ever see one of his bottles you'll know: it's the first (and as far as I know the only) wine bottle to feature an embedded silicon chip. No, it's not NFC or Bluetooth-enabled (yet), but it symbolizing the essence of two industries that play important roles in the Northern California economy.
Stark Insider TV: T.J. Rodgers, Pinots & Microchips
TOP 5 WINE MOVERS AND SHAKERS 2013

1. ?