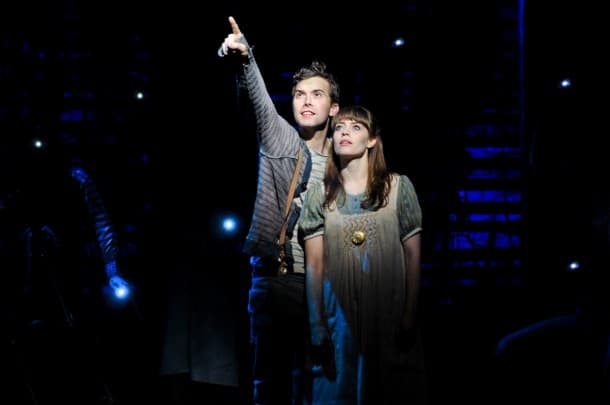 True confession: Peter Pan never worked for me. As a child I found it condescending. As an adult I disliked it even more. Working the ropes to make Peter fly just nurtured my dislike, as every show raised the fear of crashing someone's little darling. Hearing of the Peter Pan prequel, Peter and the Starcatcher, I imagined something cloyingly saccharine, with an audience packed with children.
Boy, was I wrong. This gem makes my top ten for 2013. With some of the best word play, sight gags, and quick wit, this is not to be wasted on children. In fact, you might even want to leave the under-ten set at home and go enjoy this guilty pleasure.
If on a Netflix listing, Peter and the Starcatcher might be classed as cerebral comedy (which shows you how far it's gone from the source material). Based on the novel by Dave Barry (yes, that Dave Barry) and Ridley Pearson, it feels more like Peter Pan crossed with Monty Python, sans the relentless over the top Brit humor. Yes, it's got pirates (what else could you expect from the progenitor of Talk Like a Pirate Day, celebrated on September 19th), but it's also got a lot of Italian food, 1970's mustaches, very strange mermaids and bizarre uses of mustard dispensers.
ALSO SEE: 42nd Street Moon does Rodgers and Hart
I intentionally avoid talking plot, because it tends to give people an excuse not to see something.  For example, if I knew in advance that Poisonwood Bible had anything to do with Christian missionary work in Africa, I'd have missed one of my favorite novels. However, since everyone already knows about Peter Pan, here's a few hints.
Enter Lord Astor (Nathan Hosner), dripping with Victorian propriety and manliness, and his crew of shipmates, most of whom remain vaguely unknown, except for that other Victorian hero, Captain Robert Falcon Scott (Ian Michael Stuart). Lord Astor's mission is to deliver a trunk of starstuff to Rundoon.
Enter Blackstache (John Sanders), the "pirate with scads of panache, who wants the key to the trunk with the cash." He swings from rhyming couplets to threats of violence to hurrying up his crew because the audience "has paid for nannies and parking." His aim is to get the starstuff.
Molly, (Megan Stern) daughter of Lord Astor, has far more class than Wendy ever dreamed of. This is no asexual Victorian girl with proper long nightgown, stitching Peter's shadow back in place. Smart and assertive, one imagines Hilary Clinton as a girl. She's on the ship with the starstuff, while Lord Astor commands a decoy vessel.
Mrs. Bumbrake (Benjamin Schrader) is Molly's nanny. Played in drag, she's off canoodling with Alf and getting all the fart jokes, leaving Molly to take care of herself.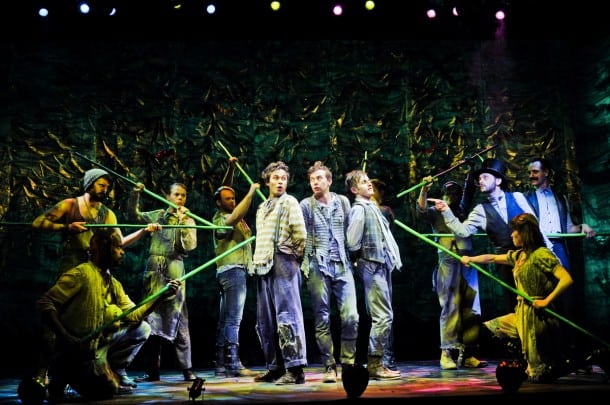 Boy started life in a Victorian orphanage and doesn't have a name (think Oliver Twist). Throughout the play, his character (which is rather nebulous at the outset) develops enough to retroactively merit having a sequel.
Just when you've had enough of this cleverness, the plot quickly wraps up, leaving everyone in a place that with a bit of time travel, could launch Peter Pan.
Peter and the Starcatcher is at the Curran through December 1. It's just the thing before holiday bedlam approaches.
MORE: San Francisco Theater Reviews, News