The Artist Diaries chronicles the adventures of Loni Stark who is on a quest to become a master painter, one class, one painting at a time. Along the way there's no shortage of mishaps. Dreams can be dashed by spilled turpentine, uncooperative Grumbacher, or, in today's episode, plain old fog. Go forth and create!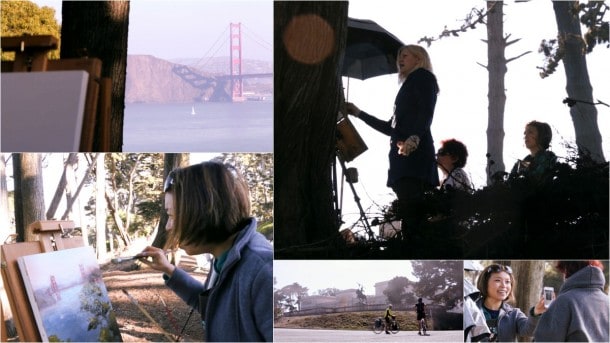 The fog rolled in. The fog rolled out. The fog rolled in. The fog rolled out. And… then it started all over. Repeat. Enjoy. Ah, another San Francisco morning.
None other than the Golden Gate Bridge was the subject of our latest painting challenge.
With just one day (seven hours), the goal was to setup, confront the subject, and paint it into submission. Only one problem. That pesky fog. At times I couldn't even see the bridge at all. So I improvised, choosing instead to focus on foreground objects, such as the soaring, majestic Cyprus trees.
American impressionist Kristen Olson once again led the class, opening the morning with another inspiring, and lesson-filled demo. Then, we were on our own, racing against the clock. Fortunately Kristen was stop by from time to time. Her expertise and help was much appreciated; especially when attempting to layer in the colors in the sky, and gently paint in the Golden Gate's fine stanchions and suspension cables.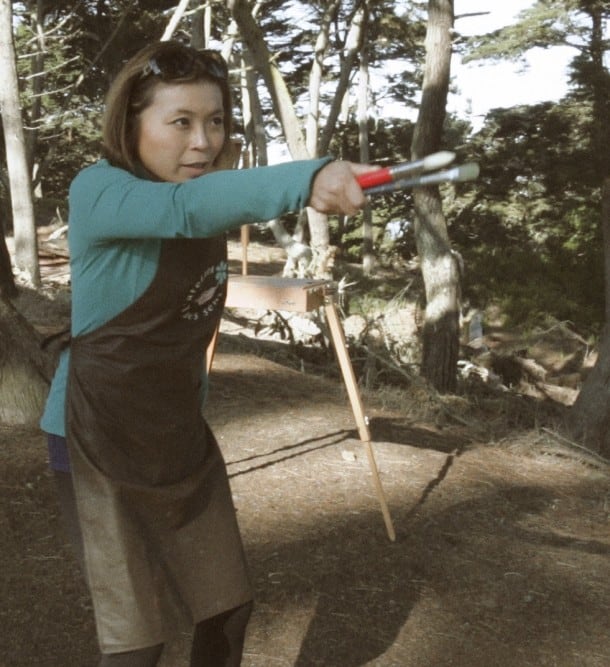 Did I succeed?
You'll have to watch this episode of The Artist Diaries below to find out!
Once again, at the end of the day I "reveal" the result, and there is an official "judgment."
Clinton Stark was on hand to record the proceedings. Later he reminded me that he shot 48GB and that "nothing happened" – the fog, though proved to be quite the nemesis, as did the shivering cold weather. Luckily, every now and then the sun would poke through the clouds, and provide welcome relief.
Many thanks to the folks from the stunning California Palace of the Legion of Honor who allowed us to paint on their grounds. It's a day this "gunslinger" won't soon forget!
Until next time, remember to always confront the canvas. With joy! Ambition! And … a club?!
THE ARTIST DIARIES: The Good, the Bad and the Foggy
Challenge: Paint the Golden Gate Bridge in less than one day (seven hours).
Teacher: American impressionist Kristen Olson
Location: Legion of Honor, San Francisco