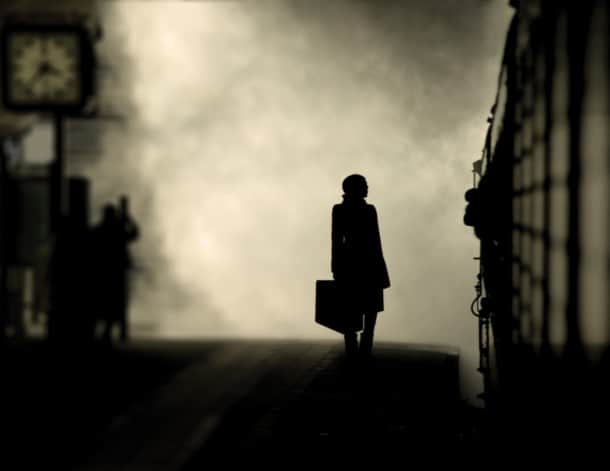 In Berkeley Rep's Pianist of Willesden Lane the works of Grieg, Beethoven, and Bach echo across war-torn Europe. It's 1938. A 14-year-old Jewish girl finds herself on the Kindertransport on the way to England, separated from her two sisters and parents, who are left behind in an increasingly volatile, Nazi-occupied Vienna. Upon arrival in Southern England, Lisa Jura would endure a life on the run. Her only solace: the piano.
Holocaust stories are told many different ways–all of them heart-wrenching, gripping. Recently at the Mill Valley Film Festival I had the opportunity to screen The Book Thief, starring Geoffrey Rush. In that film (adapted from the book by Markus Zusak) omnipresent Death narrates a young orphan's discovery of the power of the written word to overcome oppression. The Pianist of Willesden Lane avails the arts in a similar fashion; perhaps, as solo performer Mona Golabek notes during the opening scene of the play, to remind us of our humanity. In the face of untold atrocities, our only respite is that of the unbreakable: family, dreams, conviction.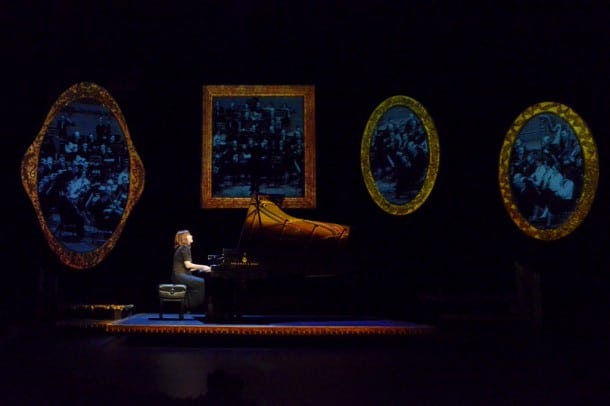 There are many powerful aspects of this remarkable production.
Most notably, the star herself, concert pianist Mona Golabek. The Grammy nominee clearly has the chops. For a play based largely on live performance her skill is put to extraordinary use. One moment she's playing scales during piano lessons ("lessons in life"), the next recounting Shabbat and family prayer. Later, an incredibly stirring scene. The Blitzkrieg. As bombs smash London, Golabek takes to the classics–symphonies fill the Thrust Stage, juxtaposed against despair, and destruction. Poignant indeed.
"From the mother who will never forget you."
Hershey Felder's adaptation (he also directs) is efficient (the play is 90-minutes long, no intermission), yet allows for key moments and emotions to patiently unfurl. In one scene, the young Lisa, now separated from her family, finds an unused piano in an aristocrat's country home. She sneaks down at night, pretends to play it, her fingers dancing on top of the keys. Eventually, she can't resist. The instrument compels her–through it she can connect to her mother and father. The quiet home erupts in symphony as she brings the piano to life.
Felder's treatment is interlaced with joy and laughs too. As our young heroine–and those around her–begins to realize her talent, she soon finds herself auditioning for the London Royal Academy of Music. An unknown voice booms from the back of the theater. She nervously, eagerly performs. Then she's cut off. Next piece! She plays briefly. Again getting cut off: Next Piece!
"Each piece of music tells a story"
As I've assuredly written a thousand times on these pages, Berkeley Rep's staging is top drawer. Compared to the main stage, the thrust configuration is intimate, allowing us to get up close and personal. It's a perfect arrangement. A few risers allow Golabek to move about the stage, transforming our mind space, from train station and bedroom, to the destruction of a hostile, to a command symphony performance. Amazing what powerful story-telling, music, and a few powerful images (projected on four framed mirrors along the rear draped wall) can do.
The Pianist of Willesden Lane plays Berkeley Rep through December 8.