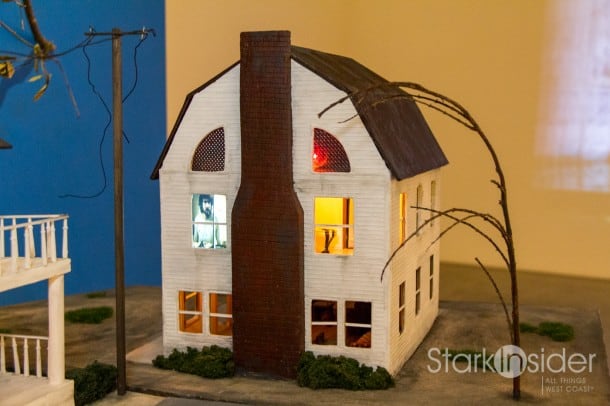 Mother, oh God, Mother. Blood! Blood!
And you thought your neighbors were difficult?
Here's an all-star horrific line-up of iconic homes. Imagine living next door to the calm everyday proceedings found at homes from these classic horror films:
The Birds (1963), Halloween (1978), The Amityville Horror (1979) and A Nightmare on Elm Street (1984).
Turns out, such a street actually exists where all four homes co-exist in peaceful, blood-drenched happiness. Earlier this year incredible miniature artist Tracey Snelling swung through San Jose with her latest art installation. Perfectly entitled "The Last House on the Left" it featured four miniature replicas of each of the aforementioned homes. As you can see in this video, they're absolutely spectacular. Better still, Tracey outfitted each with micro-projectors that loop memorable scenes inside the homes.
As a kid, The Amityville Horror was pure terror. I remember sneaking into a theater, against my parent's wishes, to watch it with friends.
When I read about Tracy Snelling's exhibit I suspected it would be a once-in-a-lifetime opportunity to shoot a short film. Not only did I plan to interview Tracey, but I also wanted to recreate short 20-30 second scenes on video. What you see here are her miniatures augmented with some soundtrack, and audio dub over from the film, to hopefully attempt to complement what she had displayed at the Institute of Contemporary Art here in San Jose.
Of the four films, my favorite is Halloween. It's a tough call. But John Carpenter, for better or worse, kicked off the whole slasher genre; one that would see far too many low budget attempts in the 1980's to copy his creativity. The film would also bring the term "Scream Queen" to the masses thanks to a star-turning performance by Jamie Lee Curtis.
As a kid, The Amityville Horror was pure terror. I remember sneaking into a theater, against my parent's wishes, to watch it with friends. I couldn't sleep with the lights off for at least two weeks. Now, looking back, Amityville and the Lutz's account looks to be the first "viral" campaign–way ahead of its time. Before social media, you could you still sell a hoax quite effectively. All you needed were bloody walls, an Indian burial ground (of course, and at least one priest lamenting his crisis conviction (and that damn scalding phone handset!).
For the record, here's some of my horror film rankings:
Top 10 horror movies of the last decade
The Top 10 Horror Movies of All Time
13 Horror films worth re-watching
Also this list caught recently my eye and is worth a look: lesser-known Horror film gems from Karen D'Souza and Jim Harrington of the Merc News (Haute Tension… see it!).
And, as I like to remind myself, since we're not talking about The Godfather, it's generally good practice to avoid the horror sequel. For more sage horror film survival technique, I highly recommend Wes Craven's meta classic Scream (1996).
Are you ready for a walk down the world's scariest street?
Brace your loved one, and click play…
WATCH: The All-Time Scariest Houses of Horror