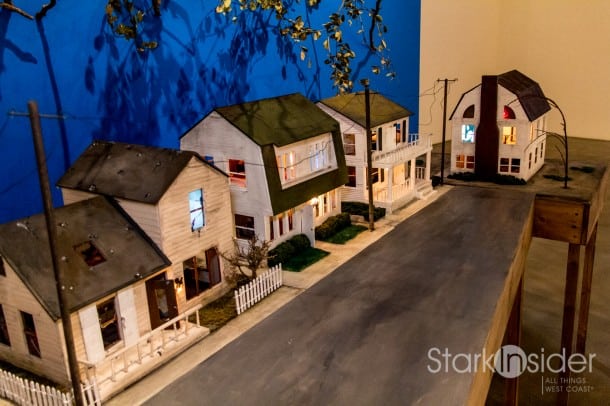 We conclude our week-long "Horror Houses" series with a video featuring an interview with the creator of this miniature, Hellish world.
Don't trust those innocent, white picket fences. What we have here surely ranks as one of the most horrific places on earth. The neighborhood has gone to Hell alright. But you'd never know it from the outside. Trees line the streets, (mostly) neatly manicured lines greet visitors and charming homes suggest that this a heavenly slice of Americana. Step inside and, to borrow a line from Norman Bates,  "Mother, oh God, Mother. Blood! Blood!"
Sculptor Tracey Snelling's miniature horror world is, indeed, the antithesis of paradise. Featuring houses from The Birds (1963), Halloween (1978), The Amityville Horror (1979) and A Nightmare on Elm Street (1984), the Oakland native calls the art installation "a homage to the horror film."
Violence is more acceptable than sex on TV. – Tracey Snelling, Sculptor
A product of the 80s, I see my youth on this street (but without the snow). I'll never forget seeing Halloween for the first time. It was raw, visceral. And that John Carpenter soundtrack: the stuff of nerves. The Amityville Horror plays as camp today, but back then I promised myself to never go near an Indian burial ground. The Birds, while not a box office success like Psycho before it, spun a love story into a bleak, invasion flick with a non-commercial ending. And with A Nightmare on Elm Street, Wes Craven upended the genre and brought fear to the masses.
So when I saw a preview on the San Jose Institute of Contemporary Art's Facebook page, I grabbed my Canon 60D and headed over. Fortunately, the staff were ever so accommodating, as was Tracey, who grew up watching horror films and creature features with her father on Saturday nights. Watch this Stark Insider TV segment as she talks about each of the houses, and respective films:
WATCH: Famous Houses of Horror
Having re-watched all four films recently, I give the nod to Halloween as the all-time best; though if you randomly ranked it along with Kubrick's masterful The Shining and Alfred Hitchcock's seminal Psycho I'd be satisfied with the results no matter how they turned out.
Tracey's piece reminded me of just how iconic these houses are in each of the films. Home is where the heart is, of course – maybe that's why it makes for the perfect place to stage terror. Then there's the political aspect. That on the exterior all is well with the world, but because everyone needs a gun (or five as she tells me in the interview), there exists an undercurrent of unrest. "Violence is more acceptable than sex on TV," she says.
"The Last House on the Left," along with several other interesting works, is now on display downtown San Jose at the ICA's "Parallax Views" exhibit. It's a wicked bit of horror film nostalgia you shouldn't miss.
Now, pop trivia time. See the four photos below. Can you match the house to the horror film?
IN PHOTOS: Houses of Horror