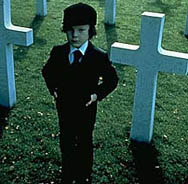 Everyone loves a top 10 list. Remember "The Book of Lists"? For better or worse, I've decided to roll-out a new series of "Top 10s" on this site. I've taken away all the agony of making these stressful determinations based on countless hours of research and googling.
So now I present the first of the series. This is, of course, the undisputed top ten horror movies of all-time.
It's based on decades of first-hand viewing experience, and even in some cases, in-depth research and reading (i.e. the Grimm brothers references in Italian horror giallo cinema… and to those who know what I'm talking about, count yourselves accomplished Argento gurus!).
Ranking Fear: SSC TOP 10 Horror Movies of All Time

Psycho (1960)
Halloween (1978)
Rosemary's Baby (1968)
The Shining (1980)
The Omen (1976)
The Exorcist (1973)
Nightmare on Elm Street (1984)
Suspiria (1977)
The Birds (1963)
Alien (1979)

Honorable mention: Friday the 13th (1980), The Thing (1982), The Texas Chainsaw Massacre (1974), Carrie (1976), Scream (1996), The Changeling (1979), Dawn of the Dead (1978), Audition (1999).
Boo, scary stuff! Did I miss your favorite? Happy 6-6-6!