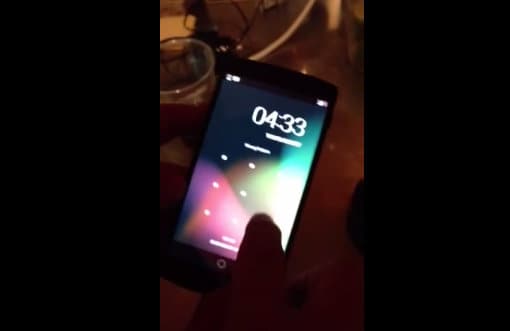 Here we go again.
If you want to "leak" a phone, here's a tip: head to a local Silicon Valley bar.
Last time it was an iPhone, involving embarrassing Gizmodo bravado. Now we have the already overly "leaked" Nexus 5. According to to tipsters it's already been spotted, in advance of its anticipated October release in–wait for it–a bar in Silicon Valley.
9to5Mac… oops, I mean 9to5Google, apparently was first with the scoop:
"The device in the images was apparently left charging unsupervised by a Google employee at a bar (yeah, lol) where an employee of the bar was able to snap the photos and short videos…"
ALSO: Shot on Canon EOS 70D (Video)
Expect the new Google smartphone to sport Android 4.4, aka Kit Kat. General consensus is the the successor to the Nexus 4, launched in 2012, will feature a Snapdragon 800 processor, 5-inch screen, and LTE. Oddsmakers say a Gold version is a 50/50 possibility.
We're still awaiting news of a door crasher. Will Google, following in the footsteps of Steve Jobs and Apple, send out the "bar police" to track down and retrieve this "leaked" device?
WATCH: Leaked Google Nexus 5 Android Smartphone
Next version of Android will be called KitKat (iOS 7 to be known as Pizza Pocket)