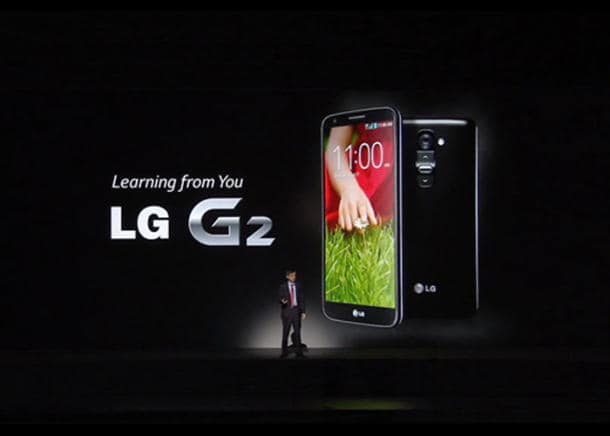 Let the drooling begin.
LG today took the wraps of its highly anticipated G2 Android flagship. Spec-wise, it's what many were hoping the pretty Moto X would be: a powerful, innovative, lustworthy Android-powered smartphone with bragging rights.
Front and center is a massive 5.2-inch screen – and it's the real deal (IPS LCD, 423ppi), running full 1080p HD. Running Qualcomm's highest end mobile chip, a Snapdragon 800 processor (2.2GHz), expect this thing to fly. Another upsized spec: the battery. Rated at 3,000mAh, the G2's battery comes very close to the recently announced Motorola Droid Maxx (3,300mAh).
LG has also (thankfully) seen fit to push the envelope when it comes baking in some nifty little bits of kit; the realization that ratcheting up horsepower, trumpeting "speeds and feeds" and focusing solely on benchmarks is not truly the way to the mainstream consumer's heart (and pocketbook… er, Google Wallet) seems to be catching on across the industry. Take for instance the controls on the back of the G2. As far as I know, they're a first. The volume and power buttons have been relocated to the rear, which, according to a LG reps, will facilitate easier control given the device's extra girth. Waking the phone is now easier too. In lieu of pushing the power button you can now simply double tap the screen — a small, but incredibly convenient feature.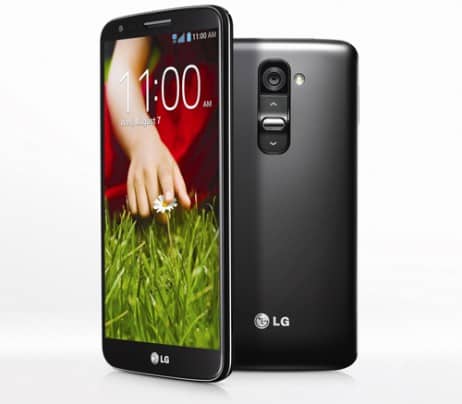 As expected with a device targeted at mass buyers, the LG G2 will be available on all four major carriers (Verizon, AT&T, T-Mobile, Sprint) in the coming months.
But, what about those of us who prefer an unlocked phone. Carrier free. Contract free. Swappable SIM cards and all?
There's a word for that:
Nexus.
Not much of a leap is required to guess that what we're looking at here with the G2 is Google's upcoming Nexus 5. That's because it's successor, the G, ultimately became the Nexus 4. So if history indeed repeats itself…
If the LG G2 does, in fact, turn out to be the Nexus 5, I'll be first in line (and by that, I mean first to get the Google Play Store shopping cart error messages).
This phone has it all in my books:
* Large 5.2-inch HD screen (great for in-car nav)
* Svelte design (somewhat HTC One-like even)
* Fast processor (so I can win benchmarking smackdowns of course)
* Innovative, back-mounted controls for volume/power (though I wonder, will it make it difficult to use when mounted in a car dock?)
* Beefy battery
* And, being a Nexus means it will receive Android OTA updates before everyone else
One question will be price. Will Google continue to undercut the market as it did with the Nexus 4 ($299/8GB, $349/16GB) in an effort to get the "pure" Android experience into as many hands as possible? Or, as we've seen with the pricier unlocked Google Play Editions of the Samsung Galaxy S4 ($649) and HTC One ($599), will Google ultimately decide to stop aggressively subsidizing its Nexus program?
We may find out sooner than later.
Word is that Google may push up the release of the Nexus 5 to October. That would be a smart move. The holiday shopping season (did I just actually write that?) begins in earnest about then, and many major purchases are made will in advance, meaning the sooner Google has the new Nexus on its store shelf the better.
And, finally, an apology to LG:
I think I had you wrong. As much as I've been underwhelmed by the Nexus 4 — below average screen, abysmal battery, crack-prone glass rear, terrible camera, weak speaker — I may have written you off as a respectable Android manufacturer a tad early. Based on I've seen so far with the G2, you could very well be on the comeback trail. I dared toy with the idea of replacing my Nexus 4 with a Moto X (a friendly face for Android). Or maybe even the HTC One or S4. But, with the G2 you had me at "5.2-inch IPS HD display."
So, Google and LG, please do make the G2 the Nexus 5.
Specs still do matter to us hapless early adopter types.