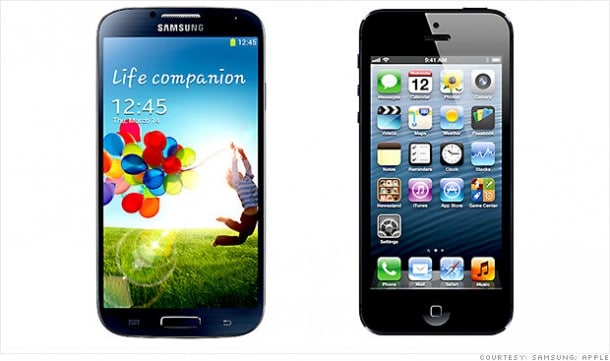 According to Canaccord Genuity, a New York-based research firm, Samsung outsold all comers in May. Beating out Apple, HTC, Nokia, Motorola, BlackBerry and every other notable smartphone maker under the sun, Samsung was able to successfully leverage its massively hyped and marketed Galaxy S4 smartphone. The Android-based device was unveiled at a lavish April event. Following on the success of last year's hit S3, the device is widely regarded as the number one threat to the ever popular iPhone.
But, the South Korean giant trails when it comes to profitability.
Apple still rules the roost when it comes to generating cash, accounting for some 57% of the global smartphone operating profits in the quarter. Samsung took 43%.
The survey was based on the retail stores of carriers including AT&T, Verizon Wireless, T-Mobile USA and Sprint. The S4 was the top seller at all of them, save for AT&T where the Apple iPhone 5 retained bragging rights.
ALSO SEE: Android Sales Scorecard: Samsung S4 10M units, HTC One 5M
Numbers were not cited.
Meanwhile, next week Apple will kick off its annual developer conference in San Francisco. Many anticipate a bevy of new products to be launched. Top of the list is a widely rumored smartwatch device which could be CEO Tim Cook's early move to ride the "wearable" computing trend.
Refreshes for the MacBook Pro laptop, iPad Mini are also expected, as is a sweeping update to the now-dated iOS platform – Jony Ive reportedly will do away with 3D effects and skueomorphism in favor of a flat, modern aesthetic.