Should Apple go after the television market, or, as as at least one analyst predicts, switch directions completely and follow Google into wearable computing?
That's just one of several stories making the rounds today in tech. See below as we make the daily rounds, summarizing some of the top stories.
As an aside: what happened to the larger-than-life Lara Croft  that we all knew and loved (the one Angelina Jolie played in 2011)? In the new "Tomb Raider" video game, the re-imaged 21 year-old heroine is unsure of herself, desperate to survive  and — gasp! — sporting normal body proportions. These Government cutbacks are really getting out of hand.
Analyst: Apple iWatch a $6 Billion Opportunity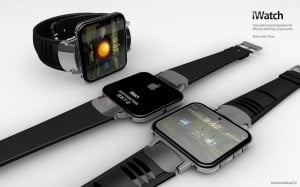 If investors are concerned about growth at Apple, an iWatch could be the answer. According to analyst Oliver Chen at Citibank, the market for such a device could be worth $6 billion. That's four times larger than the market for televisions, he tells Bloomberg.
Apple reportedly has deployed upwards of 100 engineers and designers to work on a wristwatch-like device. Many say it will provide similar functionality to the iPod, and iPhone including the ability to make phone calls, play music, and perform navigational functions such as providing directions.
Margins on watches are 60% which would bode well in Apple's efforts to prevent further decreases on the important metric in its financials, as competitors in the tablet and smartphone market continue to apply pricing pressure.
Speaking of Apple competitors, Samsung is expected to launch its next flagship Android smartphone in New York City on March 14. In advance of the event, the company, which continues to put the hurt on Apple iPhone sales, has released a teaser video, as seen above.
The most popular rumors have the specs looking like this: Exynos 5 Octa processor, 4.99-inch 1080p HD display, 2GB RAM, a 13-megapixel rear-facing camera, 2.1-megapixel shooter on front, Android 4.2 Jelly Bean.
BlackBerry Price Cuts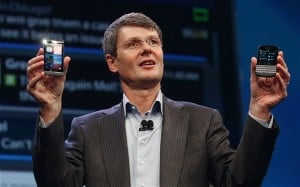 This is one headline those holding out for a rebound at BlackBerry don't want to see.
Just over a month after a splashy launch, which featured singer Alicia Keyes, the Telegraph reports that retailers are already discounting handsets which run the highly marketed BlackBerry 10 operating system.
At least two UK retailers have reduced the price point of the BlackBerry Z10 phone by about 10%. Thought not a major cut, the move could suggest the phone is having trouble selling. More important perhaps, the reduced price shifts the positioning of the Z10 to a mid-market device (with lower margins to match), while the iPhone and Galaxy S III remain in premium territory.