Welcome to the eight article in our Road to a Million Views series. Stark Insider TV is closing in on 1 million YouTube views (we estimate it will happen this spring) and we're celebrating by publishing a weekly piece on our experience — good and bad — with video on the web.
Did you know? Nearly one out of every two people on the Internet visits YouTube.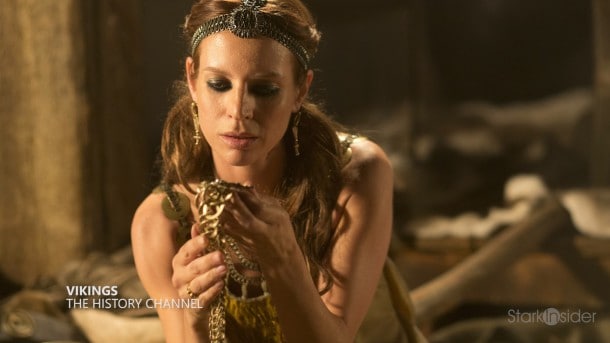 YouTube simply can't be beat when it comes to reach.
Over the years we've dabbled in various online video platforms for Stark Insider: Viddler, Vimeo, Blip.tv, Dailymotion, Brightcove, plus many others who have since vanished (in 2009/2010 the market was flooded with video services).
YouTube, however, is unassailable.
When Google paid $1.65 billion in stock for it in 2006 I suspected a movement was afoot. Soon thereafter other services such as Netflix and Hulu would cause a generation to "cut the cord." Cable subscription rates dropped faster than you could say "rabbit ears." If the combination of high speed Internet, streaming video services, and the uptake in mobile devices (a third of our YouTube views now come from mobile, see summary box below) didn't completely break the stranglehold of aging operators such as Comcast, Dish and DirecTV, it certainly delivered serious hurt.
I read yesterday that YouTube now has more than a billion unique users every single month. That's One Billion. Unique users. According to Google, YouTube's monthly viewership is equivalent to 10 Super Bowl audiences.
The message is clear: Publishers who want to remain relevant when it comes to video need to be on YouTube.
ROAD TO A MILLION VIEWS

Stark Insider YouTube Channel Views: 942,432

Weekly Change: +9.478 views, +9 subscribers

Videos viewed from a mobile device: 34%

Most watched video of the week: Vikings – Jessalyn Gilsig Interview
Influence and impact are measured using a combination of factors and services. Twitter, Facebook, Pinterest, and Instagram are among the more important social networks used to measure an organization's digital footprint. Web site hits, Alexa rankings, and Quantcast data are important too. But YouTube is increasingly seen as an equally (if not the most) important part of that equation. Views and subscribers: Essential metrics in determining if the message is really getting out there, and reaching a sizable audience.
Facebook comes a close second when it comes to video. That's primarily due to "share-ability" and the opportunity for a video to get posted across hundreds, possibly thousands, of streams in short order. The San Francisco Gay Men's Chorus segment we published this week is a good example. When SFGMC shared it on their FB page, it was then shared 59 more times, resulting in countless views, impressions. That video now has over 800 views in just three days. For us, a decent uptake.
Vimeo is a great online video platform. I love it. When it comes to indie film, this is where you want to be. They've recently added a monetization feature which should please a lot of producers looking to earn a return. Every video we make for Stark Insider also gets uploaded to Vimeo. We get on average about 50-100 views per day there, which isn't too bad, but it pales in comparison to the 1,000+ daily views we get on YouTube. Success on Vimeo requires some form of marketing campaign. It could be social. It could be traditional (print, billboards, radio, etc.). But it requires something to drive traffic – at least that's what's I've discovered since we joined in 2009.
A Million Views? That's it?! Pfft…
Well, yes and no. We're not Justin Bieber. We're also not a large record company with millions of dollars to throw at marketing. We're not about viral cats, or groin shots. That's all well and good. For a regional entertainment site, however, I was surprised to discover that in our category we're among some of the top YouTube Channels: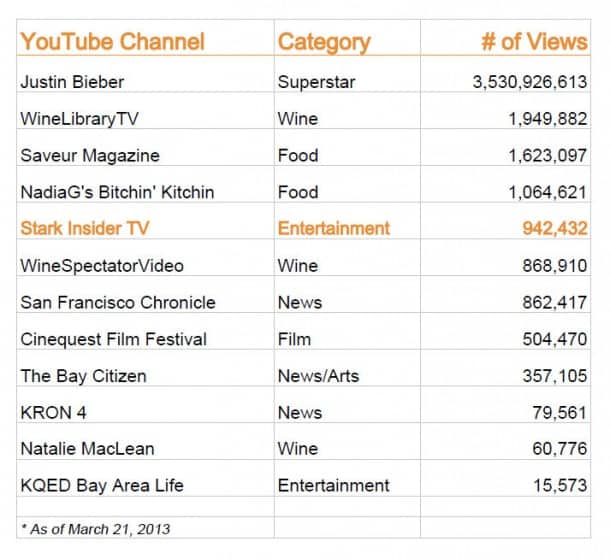 Digging deeper across YouTube, and checking out some of the top food web sites, and wine blogs, and theater/film sites I learned that 1 Million Views is respectable. Granted Stark Insider has a long way to go. We're trying to improve the way we package videos, tell a story. I consider each view a small vote of confidence, and appreciate that someone would take the time–even if just a minute–to watch one of our (quirky) pieces.
Without YouTube it would be hard to imagine what kind of budget, campaign, outreach it would require to get one million people to click on our stuff.
SAN FRANCISCO!
Stark Insider: Road to a Million Views