Recently we published some fun outtakes with actress Jessalyn Gilsig (Glee) who joined Loni Stark on Stark Insider to talk about her latest project. Now we're pleased to present the full-length interview.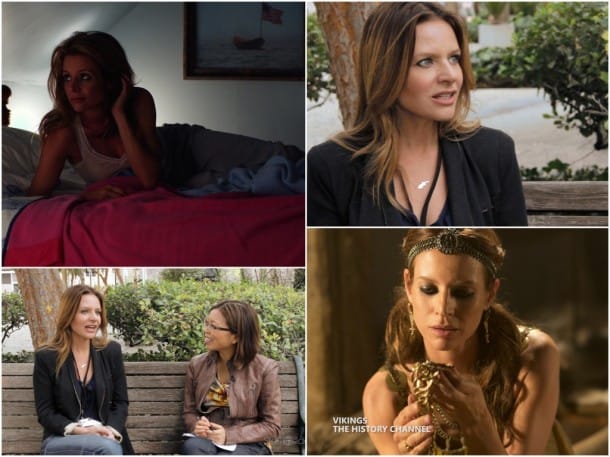 "As soon as you make plans, you'll book a job. And the job will be far away."
Actress Jessalyn Gilsig (Glee) makes an appearance on Stark Insider TV to discuss how she got into acting, how her role in History Channel's new mini-series Vikings took her to Ireland for an epic shoot, and what led to her becoming the producer and lead in the film Somewhere Slow.
The Montreal native also opens up about the challenges of getting a film made. Find out in this interview, what her least favorite part of the process is, and what it takes to keep a Hollywood career on track in a town with a "deep preoccupation with youth."
Somewhere Slow, in which Jessalyn had to over-blow her lips and line her face with pimples,  recently played the Cinequest Film Festival here in San Jose, and received enough votes to make it to the "Encore" screenings on the closing day.
Jessalyn, who started her acting career in voice (Mascarade, The Journey Home) spent 5 months in Ireland shooting 9 episodes for the first season of Vikings.
"In spite of our preconceptions of Vikings, which is that they were these filthy people who were unkempt and raping and pillaging everywhere," she says. "In fact, there was evidence of great care in their appearance, and especially with the women. They would take kind of a berry stain and stain their cheeks."
Of course it just wouldn't be the full on Stark Insider experience without the Stark 3. But this time Jessalyn turns the tables, and asks me about my favorite drink. And what's up with "toast" these days…?
Watch: Actress Jessalyn Gilsig on Acting, Vikings, Somewhere Slow