Welcome to the ninth article in our Road to a Million Views series. Stark Insider TV is closing in on 1 million YouTube views (we estimate it will happen this spring) and we're celebrating by publishing a weekly piece on our experience — good and bad — with video on the web.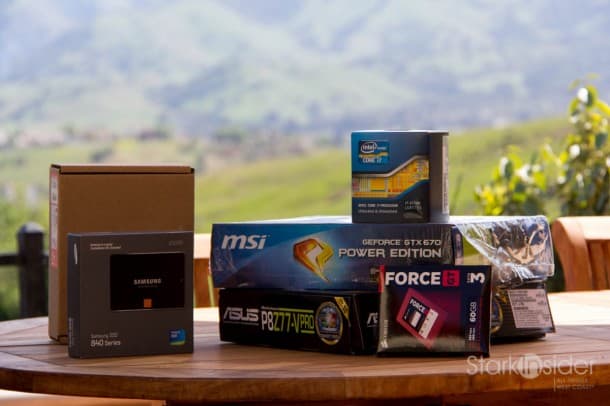 One of the most common questions I get about Stark Insider is: What gear do you use?
Finally, here's the answer.
When it comes to video editing–especially with today's HD formats–it seems as if no amount of computing horsepower is ever enough. Importing raw footage, scrubbing the timeline, rendering effects and transitions, and encoding 720p and 1080p videos all benefit from as much CPU and GPU horsepower as possible.
With that in mind, I finally decided to give my 2011 rig a refresh. Though it's based on a Sandy Bridge i7 and has a decent graphics card (Nvidia GTX570) it was time to take it to the next level. I'm in Adobe Premiere Pro, or Adobe Lightroom, or Adobe Audio, or Adobe Media Encoder pretty much every day now. If time is money, and there's no question in our new media ventures that we need to do whatever we can to reduce content processing. My goal is to get the best quality product we can, be it an article, video, or photo gallery, out the door as soon as possible. Content never sleeps. Publish or perish.
ROAD TO A MILLION VIEWS

Stark Insider YouTube Channel Views: 947,113

Weekly Change: +7,016 views, +4 subscribers

Estimated minutes watched: 16,415

Most watched video of the week: Beach Blanket Babylon performs with 300 Gay Guys
Truth be told, this project started out as "just a small graphics card upgrade" – or so I told myself (and wife). Soon enough I realized to take advantage of the new GPU, I needed a newer CPU… and a newer motherboard, and a newer…
First I did a bunch of research. There's plenty of helpful resources out there. I'm always impressed by how quick people are to share knowledge, provide insight, and describe their experiences. One of the best that I found thanks to Google was a guy named Dave Dugdale. If you like to learn about DSLR online then you probably already know about Dave (and other guys too such as Philip Bloom). Based out of Colorado, Dave considers himself an "advanced amateur," but if you get to know his photos, and videos you'll quickly realize that part of what makes him so successful (his YouTube channel has over 8 million views) is his humble nature. A former audio engineer, he invites you to join his journey in DSLR, where he confesses he'll make mistakes, but will eagerly share his learnings along the way. I've blatantly adopted the title of his post from a few months back, Dave's Monster Video Editing Computer Build. No other site proved as helpful as Dave's, and I've really enjoyed learning from it.

Video Editing Computer Build
My objective was pretty straightforward: Build the fastest possible computer for the money. I was particularly focused on the CPU and the GPU, both key components for video production.
In this case I budgeted $900. Keep in mind I was going to re-use a few components, namely the case, the power supply, and my media hard drives. Ultimately I sold my old mother board/CPU/RAM on eBay for $365. That meant–using some gadget-friendly Clint math that my wife eternally questions–my new budget for this build was $1,265. Although this was an upgrade, since I replaced the board and CPU, along with a clean install of Windows 8, for all intents and purposes this is really a new computer.
Here's my 2013 build:
Clint's Monster Video Editing Computer Build

Motherboard: 
ASUS P8Z77-V PRO LGA 1155 Intel Z77 HDMI SATA 6Gb/s USB 3.0 ATX Intel Motherboard $208

CPU:
Intel Core i7-3770K Quad-Core Processor 3.5 GHz 8 MB Cache LGA 1155

GPU:
MSI NVIDIA GeForce GTX 670 OC 2GB GDDR5 Video Card $383

RAM:
Kingston HyperX Beast 16 GB Kit (4×4 GB) 2400MHz DDR3 $165

Hard Drive (for encodes):
Corsair Force GT 60 GB SATA III/6G 2.5-Inch Solid State Drive $85

Hard Drive (boot):
Samsung 840 Series 250GB Solid State Drive (SSD) $188

TOTAL: $1349

Over-budget: $84
The default links above go to Amazon. Since I'm a Prime customer that's where I ordered the gear. I've included Newegg as well since that's the most popular enthusiast site – I found prices between the two comparable. Since I'm on Prime it's nice though to get the free two-day shipping. I originally purchased an MSI GTX 660Ti graphics card, and thanks to Amazon's easy return policy, swapped it instead for a step-up GTX 670 – I figured the extra memory bandwidth would help some how, some way, and for the extra $50 or so it was worth it.
Wouldn't you know it, I went slightly over budget. All things considered not too bad though. I could have skipped the Corsair 60GB SSD for encodes and hit the target. I have a plan in mind for later this year to build a 4 bay RAID with 60GB SSDs – it won't cost a whole lot, and I can put active media on there, edit at blazing speeds, and then archive when done. Since everything will have backups I'm not too concerned about data loss, only the best possible throughput.
One major decision was to opt for 1155 socket motherboard over the more powerful 2011. Those that are deep into sites like Tom's Hardware know exactly what I'm talking about. In the end I figured the extra cost wasn't worth it at this point, especially with new platforms coming out this year. I like to wait a year or so and buy gear that's dropped significantly in price which means my next upgrade will happen 12-18 months out.
For the OS, I already bought a $14.99 Windows 8 license last year. I was able to do a clean install with that, and so far, so good.
Hard Drive Configuration
Another important consideration I've learned about: hard drives. With Premiere Pro (and I assume most editing applications) it's best not to use just one drive. If you've seen Highway 101 here in Silicon Valley after the shutdown several lanes than you'll know the resulting congestion is a real downer. Same with data throughput and disks. A single disk is the proverbial single lane highway. Add more and spread out the data flow, and you'll be cruising. Also, SSDs are hugely important.
Here's my hard drive configuration for Adobe Premiere Pro (CS6):
Hard Drive Config for Adobe Premiere Pro

C:\ Windows 8 OS + Apps (Samsung 840 250GB SSD)

E:\ Encoding (Corsair Force GT 60 GB SSD)

F:\ Media Drive 1 (Seagate 3TB HDD)

J:\ Media Drive 2 (Seagate 3TB HDD)

S:\ Scratch (Sandisk Extreme 128GB SSD)

R:\ Raid (External 12TB CineRaid via USB 3.0)
Backup
Whenever I finish a shoot, I'm in a tiny state of panic. I don't ease up until I've returned home and have made at least three backups of all the video, audio, and photos. One goes on my media drive. Another goes on an external 12TB Raid 0 that I use for archiving, and yet another goes on an external USB drive that gets placed offsite. Lately, I've also been copying my active work files onto an SSD that I use for editing. I suspect that's a no-no given SSDs are not spec'd for intense read-write activity. But I'm addicted to the extra speed!
Performance
So far I'm very pleased with the performance of the new rig. Installation was not difficult given I had built the system a few years back from scratch. For whatever the reason, I continue to get middling USB 3.0 performance. It always seems to hoever around 45MB/s or so, which is closer to 2.0 spec than 3.0. I experienced the same issues with my previous Z68 Asus motherboard. Despite installing the Intel USB drivers (and deactivated the Microsoft ones) I still don't get very good performance (occasionally speeds spike up to ~ 140MB/s).
The combination of the Z77 motherboard, Samsung SSD drive, and Windows 8 appear to be a match made in heaven when it comes to boot speeds. From power on to Windows 8 splash: ~ 10 seconds.
Also with this new build, I've experienced no crashes in Premiere Pro. Previously Adobe Media Encoder would crash routinely when trying to encode 1080p videos (it worked fine for 720p). Maybe that had something to do with upgrading to Win 8 on top of 7. This time I went clean and installed Windows 8 natively. Hard to say. Whatever the reason the new system, even with the GPU and CPU overclocked, is remarkably stable.
I'll come back soon with an update with specific benchmarks. Speeds and feeds. I know. We love it.
What Next?
For now I continue to edit on a desktop. That may change later this year when I upgrade my MacBook Pro (2010). I'm leaning towards a 15-inch Retina. The new models should have enough oomph to do video editing on the road – or in a local Starbucks (of course). Thunderbolt, with its impossibly high transfer rates, could be very useful in cutting down project times. I might be the last one on the planet to say this: I do prefer Windows to the Mac OS. I'll still get a MacBook Pro as the hardware (especially the screen and keyboard) are best-in-class. But I just like the way the file system and windowing works in Windows. Aside from the lack of a start menu (please bring it back MS!) Windows 8 impresses me; a minority position to be sure.
In the spirit of Dave, I'll say that I have no idea if the build above is the best way to spend about $1,300 on a computer system for video editing. Each time I Google the topic I come up with forum posts with a myriad of ideas… I quickly jot them down, got to try that… and that… and that.
Well, time to get back at it. We have much more food, wine, film and arts coverage coming up on Stark Insider as we continue down the Road to a Million Views. Thanks for coming along for the ride!
My Recent Videos
Thanks again to Dave Dugdale for a great, informative DSLR site.
Stark Insider: Road to a Million Views