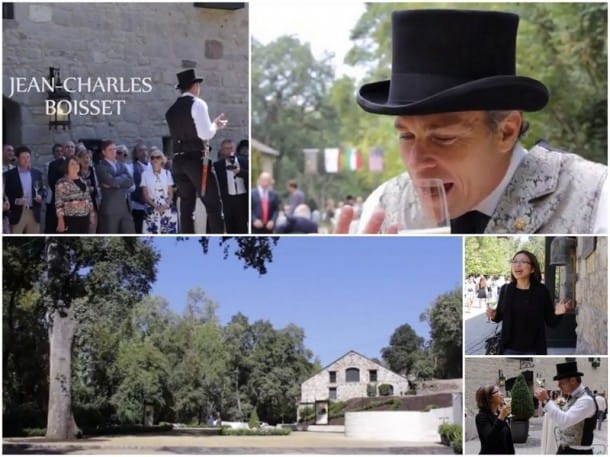 "We're living in a moment of danger!"
And with that – words you don't often hear at a winery – Jean-Charles Boisset sabred a champagne bottle as the crowd erupted in cheers, and the Historic Champagne Cellars at Buena Vista Winery on Old Winery Road in Sonoma had officially re-opened.
I was fortunate enough to be among the invited friends and media on this special day — August 31, 2012 — and am pleased to present this special Stark Insider TV episode, bringing you an inside look at that decidedly over-the-top, gloriously fun, and definitely unforgettable day. It was my first time meeting Jean-Charles, and as you'll see in this video he's quite the showman and charmer (ahem, "Well, meet you further…").
If Hollywood ever decided to switch accents, and go French, Jean-Charles should be on their short list. Bond may have a license to kill, but one would suspect a license to thrill and to entertain might come in just as handy. As he presided over the event, which featured three national anthems, two mayors, one Count celebrating his 200th birthday, a proclamation, Hungarian dancing, and a vortex, I couldn't help but wonder: is this all really happening?!
The celebration, however, is justified.
NOW PLAYING ON STARK INSIDER TV
Buena Vista Winery is regarded as the birth site of the premium wine movement. In 1857 Count Agoston Haraszthy dug here into the hills of Sonoma Valley, and founded the estate, the first large-scale producer of premium wine. He traveled Europe soon-after, bringing back 100,000 cuttings of over 350 different grape varieties.
Sadly the property fell into decline. Over the past decade the winery changed hands five times. In 2011, Jean-Charles Boisset bought the property. His first order of business in restoring the operation was to re-open the cellar, to start making wine. "The [Buena Vista] cellar has been inactive for decades," Jean-Charles told me beaming with that mischievous smile. "What we wanted to make sure today was that we could make wine."
Honoring Count Agoston's original vision that featured relatively unknown varieties such as Carignane and Charbono are part of Boisset's ambitious new vision.
In addition to Jean-Charles Boisset, others slso making appearances in this Stark Insider TV segment include: Wine Enthusiast magazine founder Adam Strum, Mayor of Sonoma Joanne Sanders, Mayor of Tokaj (Sonoma's sister city) Majer Janos, and Vallejo Haraszthy, the great-great grandson of General Mariano Vallejo, who founded Sonoma in 1834. Also, "old master painter" Stanislas Kostka shows me some of his work.
And if you ever needed proof that it's once again cool to use a BlackBerry definitely watch the video to find out why!
(Also, heads up: "No Diet Coke allowed on this property… young lady…")
WATCH: The Re-birth of Buena Vista Winery Starring Jean-Charles Boisset