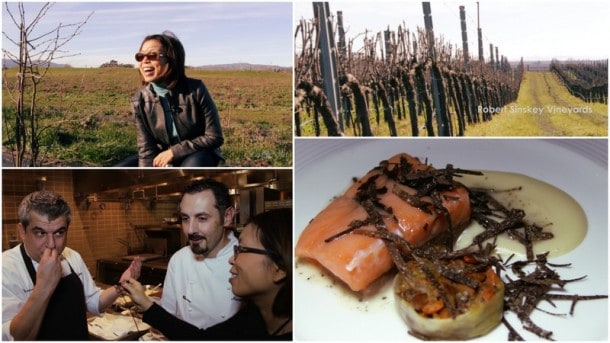 "To have my first truffle be a white truffle is kind of like my first date is Angelina Jolie. It's a tough act to follow." – Colman Andrews, co-founder Saveur.
It started in a conference room with a deep dive into mycology led by Dr. Paul Thomas, took us to a newly planted truffle orchard on the Silverado Trail, and ended with a Michelin star chefs dinner at La Toque in Napa.
All in all, not too bad for a Saturday. And the event made for a very special segment for Stark Insider TV as you can see in the video here.
WATCH: Truffles in America (Napa Truffle Festival Highlights)
There are several sides to the Napa Truffle Festival which swung into town last weekend. Science, economics, and culinary artistry co-mingle in what is becoming one of the more interesting stories to come out of Napa in recent years.
Will they or won't they?
Grow that is.
The Business of Truffles
Robert Sinskey, winemaker and also truffle cultivator, believes they will. He's allocated a portion of his vineyard to them in hopes they will turn into gold. We won't know for another three or so years – it takes about five to six years for truffles to cultivate. Even then, as Colman Andrews, co-founder of Saveur and truffle guru, reminded me, "You still need to look for them!" Hence the need for truffle dogs (in Europe pigs are also used, but require special attention as they like to eat the truffles after finding them).
We're two years closer to having truffles in our own backyard. – Chef Ken Frank, La Toque
Robert Chang, whose company helps investors and farmers turn land into truffle orchards, believes there's two reasons why the truffle business is potentially lucrative. The first is yield and revenue per acre which are both substantial. Profit margins, he tells me, can be as high as 90%. Perhaps more importantly, compared to vineyards, they require less maintenance, which translates into less labor and lower operational costs.
Dr. Paul Thomas of American Truffle Co. on truffle cultivation. At $1000s/pound, motivation high #trufflefest instagr.am/p/UrItUmpbYG/

— Loni Stark (@lonistark) January 19, 2013
The Chef Perspective
The other side of the story comes from the chefs who use truffles to the gastronomic delight of us culinary pleasure-seekers.
So I visited the kitchen at La Toque where a superstar team of Chefs has been assembled to serve a 5-course truffle and wine dinner. There I spoke with Chef Ken Frank (La Toque, Napa), Michael Tusk (Quince, San Francisco), Nicola Chessa (Valentino, Santa Monica), and Marco Gubbiotti (La Bastiglia, Spello, Italy) to glean as much information as possible about how truffles are being used in some of the country's top restaurants. Watch the video to hear some of the interesting sound bites – and, of course, see some of the dishes these gastronomic wizards served up!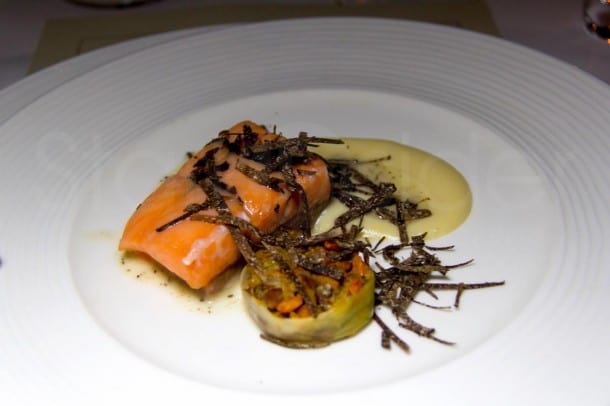 "We're two years closer to having truffles in our own backyard. There are more truffle plantations planned for the Napa Valley which is really good news," said Ken Frank, executive chef and owner of La Toque where the annual truffle dinner was held. "In just a few years we'll be able to say the truffles on your plate tonight were dug that morning."
ALSO: A Cover-Up in Napa (and an incredible Shiner)
Truffles in America. What's the next chapter? We'll have to revisit the subject in a few years time to see if the risk-taking pays off, and dreams of locally grown black truffles take flight.
As for Angelina Jolie symbolizing the sexy White Truffle, be sure to watch the SI TV segment above to find out who Colman thinks would best represent the Black Truffle.
Learn more about truffles:

Truffles are increasingly being used in restaurants across the San Francisco Bay Area. Chef Matthew Accarrino (SPQR, San Francisco) features them prominently. The above black truffle is 11 ounces. (Photo: Matthew Accarrino)

Truffles From the Wine Country? 
Colman Andrews

"To say that they [truffles] are being cultivated, though, means that potentially hospitable trees are being planted and the ground inoculated with truffle spores in the hopes that some will grow. Very few have yet appeared anywhere, and the process takes time. How much time nobody is exactly sure.

So you want to be a truffle-farmer…? 
Cornell University

"When you are further questioned about your affinity for these fungi, you point to their long culinary lineage, noting that truffles were regarded as delicacies by the ancient Greeks and Romans, and that their culinary worth persists to the present day."

A truffle farmer's black diamonds
CNN

A North Carolina entrepreneur wants America to fall in love with truffles.

10 Must-Try Black Truffle Dishes in the SF Bay Area
Zagat

"The coveted, aromatic black winter Périgord truffles (aka black diamonds) are back in season, and we've sniffed out 10 restaurants in the Bay Area that are incorporating them into their menus."