Sometimes all it takes is a puppy.
That was just one of several heart-wrenching examples of companionship that Patricia Wilson, executive director for the San Francisco branch of the Make-a-Wish foundation, gave me when discussing what it takes to fulfill hope for a child facing a life-threatening disease.
Join me on this special episode of Stark Insider TV as I head to Treasure Island – stunning views of San Francisco and all – to partake in one of the region's most important fundraisers.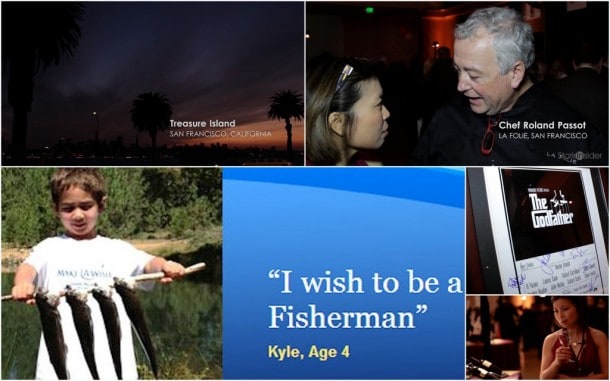 With over 50 local restaurants and wineries on hand one must be forgiven for indulging for a moment, embarrassingly shedding a tear, and celebrating what makes this event so magical.
"The bottom line is the kids," says Hoss Zaré, executive chef and owner of Zaré at Fly Trap. "We're here to raise money for their wishes."
Others making appearances in this shoot from the incredibly scenic grounds of Treasure Island include Herta Peju of Peju Province Winery in the Napa Valley, and famed Chef Roland Passot (I swear I finally got his name right!) of La Folie as he talks about "Brian's Game," a truly magical wish involving a young boy and video games.
"Their prognosis long-term may be good," says Patricia Wilson, executive director of the Make-a-Wish foundation San Francisco. "But they go through years of grueling treatment and Make-A-Wish is there to give them a respite."
Recent wishes fulfilled from Make-a-Wish include a trip to the Super Bowl, a bedroom makeover, a healing garden, and granting the wish of a child who wanted to be a chef for a day. "We haven't had anyone want to be a winemaker yet. So we'll see what happens," Wilson says with a smile.
Clint, my "camera man" extraordinaire, tells me that I must confess: I will never, ever, again refer to the rest of the cast of The Godfather, including Marlon Brando, as "the others." I apologize in advance to fans of the world of classic cinema.
And, don't forget… you cry on Oprah, and laugh on Ellen DeGeneres.
WATCH: Wine and Wishes San Francisco
Stark Insider TV. Anything could happen.