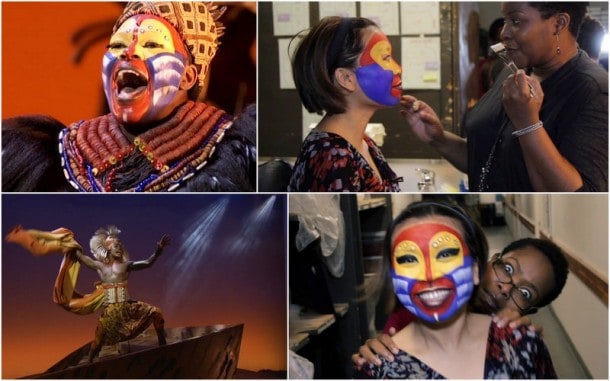 Hold your breath everyone, I'm about to make my singing debut (fair warning).
What's it like to don incredibly colorful make-up and transform into the wise baboon shaman Rafiki? Find out in this episode of Stark Insider TV, as Clint follows my backstage adventure at The Lion King now playing the SHN Orpheum in San Francisco.
Fortunately I have a good teacher on hand. Buyi Zama, who has been playing Rafiki for over ten years now, stops by to witness my transformation in the make-up chair and to share stories about life as a performer in a high-profile production.
Later, Buyi takes me through the steps required to bring the character to life. I'm not sure that what follows is quite Circle of Life worthy. And I admit her patience is tested – being a Disney production, though, things will end well. Right? Right?! You'll have to watch to find out:
Buyi, from South Africa, grew up with four sisters and two brothers. She started, innocently enough, singing with her Mom. Interestingly, I learned she was labelled yellow. "When I was young my Mom color-coded us, and I was yellow," she explains with a laugh. "Now every time I see something yellow I think it's mine!"
Valerie Anderson, make-up artist extraordinaire seen in this segment demonstrating her magic, actually worked The Lion King, before even seeing the show. "It's not like a song on the radio you hear over and over and want to turn off," she said. "You never get sick of it." Her favorite part? You guessed it: the amazing ensemble number The Circle of Life.
UPDATE, THIS JUST IN: We're told that the North American tour of Disney's The Lion King celebrated the highest weekly domestic gross in its 10 year history, generating $2.1 million at the box office in San Francisco for nine performances the week ending December 30.