Download the Internet's #1 planter box plans. Loni shows you how to build a durable vegetable planter that will last for years to come and produce fresh veggies for the whole family.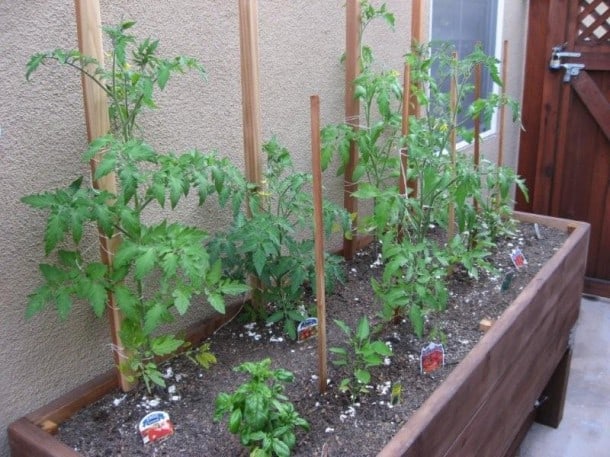 Vegetable gardening is one of the most rewarding endeavors that I can think of, and with the days now longer I'm sure you're probably eager to jump right in again.
If you haven't already, this is the perfect time to build your own vegetable planter box. I designed and built the one you see above and have been sharing the plans so that you can easily put one together too. Little did I know that my planter box plans would become the most downloaded on the Internet!
There's many good reasons to dive right in:
Yard-to-table: You'll enjoy fresh veggies sourced just yards (or meters!) from your kitchen – as I discovered there's nothing more savory then a freshly pulled tomato, or a juicy cucumber, or zingy herbs.
Space optimization: If you're like me the space around your home is limited. This planter box is narrow enough to set along a side yard. Or you could place several next to each other in a bigger space in the back. If you fancy yourself an urban gardener you've come to the right place.
Comfortable gardening: This one is important. Spending several hours of gardening bent over, leaning to reach your plants will not do your back any favors. Legs on my planter raise the bed to waist level and virtually eliminate potential for pain and injury.
To build a planter box, first download my simple plans. There you'll find the instructions, materials list, and illustrations of how to put together your own box.
It took me a morning (and my hubby was gracious enough to help). Depending on your skill level it could took take more or less time.
I've made this planter box out of materials all easily sourced from your local hardware store. As you can see in the photos, the wood is solid, and, as I can attest now after several years, highly durable. This thing is a tank – it will stand the test of time. See you can even rest it if need be: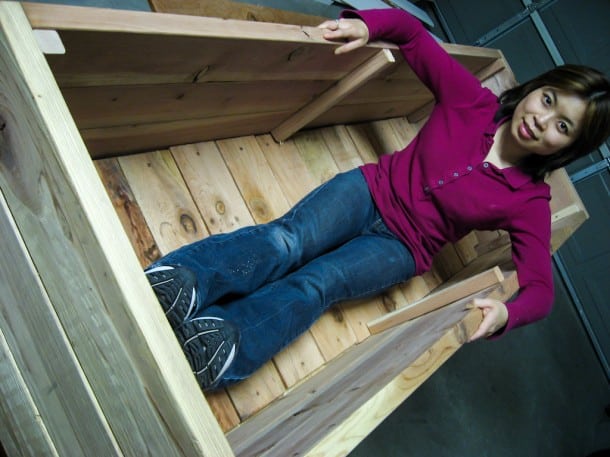 Okay maybe I was just so happy to have my own box finally, that I couldn't help pose for a fun shot. Here's what it looked like during staining just moments later on the driveway: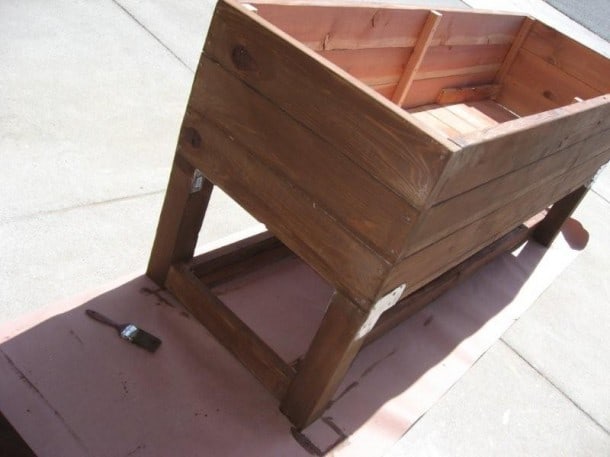 Here's a few other shots that others have sent in from around the world (including New Zealand, England, Canada, USA, Australia, South Africa, and so many more places). I particularly like when I get photos of planter boxes that have been built using my plans – so glad others too can enjoy the design. Note how there's subtle variations in the end result. For example, you can adjust the dimensions, decide to not include the legs (and lower tray not seen in the above photo), or use different types of wood.
Planter Boxes Made with Loni's Plans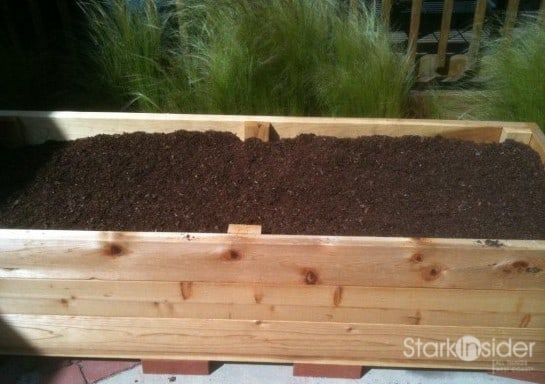 Planning
If you do decide to venture into vegetable gardening, then please be sure to plan a little. It could save you lots of heartache and time. Here's a couple of pointers to get your creative juices flowing:
Find a suitable space in your yard that receives ample sunlight
Make sure you can access that location with water – preferably with automated micro-irrigation running to hose outlet
Create a simple diagram with plant location – you don't want it too crowded
Fresh Veggies
Of course this is what it's all about: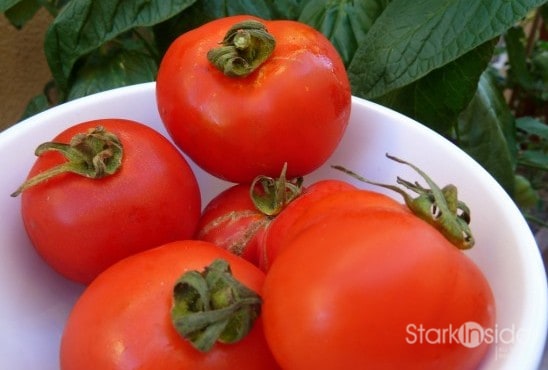 Fresh veggies. Some years are better than others. The last few have been particularly good for me. I'm not sure why, but my tomatoes literally explode. Not that I'm complaining. Make sure you don't overcrowd your box though. Spacing is key.
Here's a few of my favorite recipes that I've written about here on Stark Insider over the years that you may want to try when your planter box starts producing. Hint: bookmark this page.
Veggie Garden Videos
I shot a few planter box/gardening videos that you can find on YouTube with tips and tricks for vegetable gardening.
Episode #1 – Fertilizing Tips
Episode #4 – Planting Tips
Good Luck – Let me know How it Goes
Don't forget, here's the link to the vegetable planter box plans so you can get started right away. Send me your photos when you're done. I love that. Also, feel free to contact me (loni at starkinsider.com) should you have any questions. And while you're here feel free to visit the Stark Insider home page, and check out my other work, and feel free to tell a friend or two, especially if you live in the San Francisco Bay Area. Muchas Gracias.
Good luck, and happy gardening!