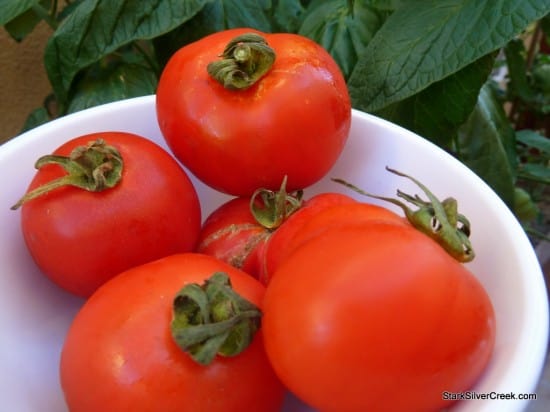 This year, because of the cool weather, the Bay Area tomato season is about three weeks late so we are just seeing the first tomatoes of the season from local farms.
I love tomatoes. Not the hard, truck-ripened Roma tomatoes at the local grocery store, no matter how glossy they look under the fluorescent lights. I worship my tomatoes bursting full of sweet flavor behind a facade that has specks of dirt from the local farm or the backyard garden. Strange looking, even better.
When confronted with such taste exquisiteness, not any tomato recipe will do. At a moment like this please do not dump them into a pot and make tomato sauce no matter how much you may crave a plate of pasta. It would be sacrilege.
Instead, do try my "Live simply" tomato and feta salad recipe.
I just sliced up some tomatoes from this week's shipment from Live Earth Farm (let's just say I had major tomato cravings after a visit to a local tomato farm…more on this later) and made this recipe.
I am reminded once again of the sheer perfection of simple.