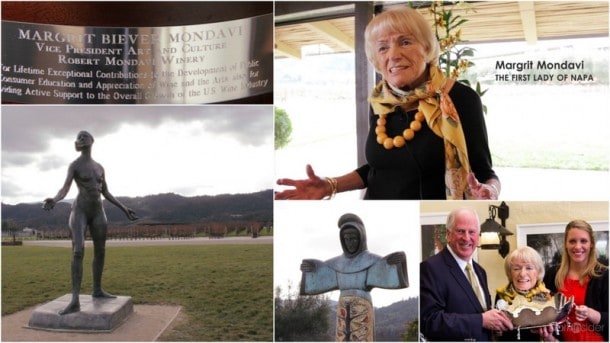 The First Lady of Napa Valley shined brightly yesterday at a special award presentation at Robert Mondavi Winery. Margrit Biever Mondavi became the 30th recipient of the Monteith Trophy. The award was given in recognition of her "many years of exceptional contributions to the American wine industry and the culture of wines, food and the arts that surrounds it."
For a recap of the event, see the special Stark Insider TV segment below.
Special guests, including Congressman Mike Thompson, Carl Brandhorst, president of the Atlantic Seaboard Wine Association, Paul Kronenberg, president of the Family Winemakers of California, and other members of the wine industry and media toasted Margrit's success at an intimate luncheon featuring a 3-course meal by Chef Chris Stillwell.
"It's quite an epiphany for me," said Mondavi, shortly after receiving the award. "It [the Monteith Award] has so much history. It's a wonderful moment."
National wine journalist Dan Berger called the influence of Robert and Margrit Mondavi on the wine industry "amazing," and noted that their partnership resulted in an "unbelievable synthesis."
WATCH: Margrit Mondavi Monteith Trophy Presentation and Interview
Also in attendance were Meaghan Frank, fourth generation of the Frank wine family, representing her Great Grandfather, Dr. Konstantin Frank, the first recipient of the Monteith Trophy in 1980.
The winery was founded in 1966 by Robert Mondavi who is widely regarded as the founder of the California Wine Industry. Over time, Margrit began to incorporate artistic and cultural elements, expanding the boundaries of how typical wineries were operated.
An accomplished artist and author, Margrit said, "We began modestly, with a Sunday art show under the arches, accompanied by wine and food."
Gradually, the fine arts program evolved to the stature it holds today, with Margrit encouraging talented unknown artists and supporting established ones such as Richard Diebenkorn, Wayne Theibaud and Nathan Oliveira.
In July 2012, Margrit released a book about her life called Margrit Mandavi's Sketchbook: Reflections on Wine, Food, Art, Family, Romance and Life.
The Stark Insider

Class and grace.

I've been to numerous trade events and tastings at Mondavi over the years (the To Kalon four decade retrospective with winemaker Genevieve Janssens was a standout) , but this one was particularly memorable. It was the first time I've been able to spend time with Margrit one-on-one, and it was also the first time I was able to experience firsthand her passion for not only wine, but also the arts. She was so generous with her time with us, and is an absolute class act. If this is the personality to exemplify future generations here in Napa then it's an entirely appropriate and gratifying one.

At 87, she's still a ball of energy. Remarkably so. I figured that we'd need to wait until after the lunch, later in the day, to do the interview you see in the video above. Instead she bounced up from her table, and said "okay, let's do this, where do you want me to stand!?" Jan Shrem, who I called "one of the most energetic guys in all of Napa" when we shot a profile about him at Clos Pegase, is perhaps one of the few elder statesman that could keep up with the frenetic pace.

Robert Mondavi today is owned by Constellation Brands. The business is a large corporate game of scale these days. Earlier this year we reported that half the wine industry is owned by three companies (E&J Gallo, The Wine Group, and Constellation). But it's nice to see Magrit's creative flare and artistic vision still influencing the operation. On that note, isn't it nice to enjoy understated, elegance architecture here? There's enough over-the-top monstrosities along Highway 29 (I'm not naming names!).

If you frequent various events around Napa Valley, odds are you'll run into Margrit — she'll likely be sharing stories, or doing something physical that belies her age. Last year she was playing a furiously competitive (you had to be there) game of Croquet at Meadowood during the Festival del Sole. And just last week she was hobnobbing with Michelin star chefs, and truffle orchard investors at the Napa Truffle Festival at La Toque.

At the luncheon, Ron Lee (Mumm Napa) and I shared stories about our favorite restaurants in the Bay Area (La Foret, Gary Danko). On my right, the gregarious Meaghan Frank was excited to be representing her family at the event, and spending a few days in Napa before jetting back to Australia where she's finishing a masters.

Wines served included a Frank Family Champagne (terrific), and a Robert Mondavi '10 Fume Blanc, '09 Cabernet Sauvignon Reserve (always a favorite), and '11 Moscato d'Oro.

As for that Monteith Trophy, it sort of reminds this transplanted Canadian of a squashed and handle-less version of The Grey Cup.

Clint