When the only thing keeping a massive iron ball hanging five feet above your head is a frayed cord perilously tethered to the ceiling, survivalist instincts tend to kick-in. Then a question: What's this doing in a winery? So when the 80 year-old founder of Clos Pegase Winery Jan Shrem urgently called to me, "No, no, no! Don't stand under it! We don't know when it may fall." I quickly dashed to the side to avoid certain death, being careful as I could not to jolt the Canon T2i camera I was using to record our meeting. Likely I succeeded on only one of those counts.
I'm not one to dole out suggestions normally, but here's one: When you go to Clos Pegase, load up on your favorite energy drink. Espresso helps too.
Jan Shrem is perhaps one of the most energetic guys in all of Napa. Perhaps he himself is riding the wings of Pegasus. Possessing youth eternal he led us on an unpredictable, whirlwind tour of the winery. And the stories, the art, the history flowed…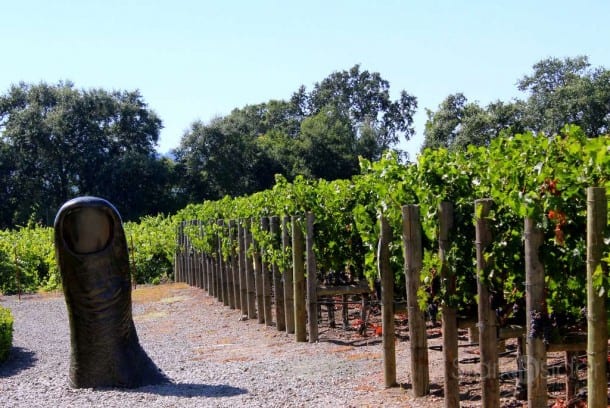 There was Bacchus, bathed in soft light way in the back of one of the cave tunnels- with his tongue sticking out, crazy little bugger. But there's a reason. Hint: it involves wine and love.
Muses. How many muses are there, and how prey-tell were they involved with wine… Pegasus… ?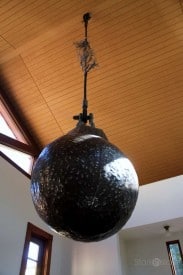 And the art. About 1,000 original pieces are on exhibition across the gorgeous grounds. One of the most famous in all of Napa Valley is that thumb: A giant – green? – thumb (by French sculptor César Baldaccini) sticking out from the ground, next to the vineyards. Shrem tells us that people get married next to the sculpture, they put their children on top. Could it be that Bacchus himself lurks just under the ground, and this is his way of merrily telling us that the wine is-a -good! Or perhaps I'm still in a slight daze from our visit.
Did I mention it was hard to keep up? Hence a lot of this video is shot Wrestler style (with "slightly" less cinematic value) as I struggle to maintain pace from behind.
Shrem's wife and partner of fifty years, Mitsuko, had passed away just a few months before our visit. I was not sure he'd accept our request for an interview. When he did I was thrilled. Then I wondered what I could expect when we finally met him in Napa. I  mean, after all, this is a highly successful entrepreneur who made his fortune in the publishing business, and was known to be just a tad eccentric from time to time.
Turns out he was an absolute gentleman and generous host. I could tell the rapport between him and Loni was warm (and that's certainly not always the case). One of my favorite parts was when he gave some "advice" to Loni about this idea of perfection and always seeking to improve. You can see that bit at the end of the video. I'll just say this: I could not agree more!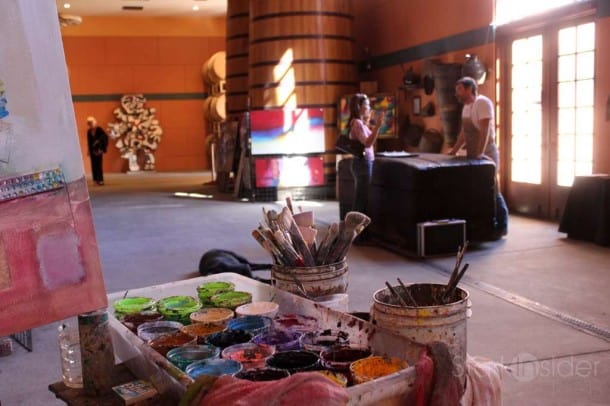 On this particular day, the tasting room was packed and jubilant. An adjacent room, with soaring barrels, houses the two artists in residence (similar to Stags' Leap Winery who also run an on premises residency program). Their art in process, colorful paints everywhere. And history, again. There are "wine vessels" here used to purify water that date back thousands of years.
More Napa and Sonoma Coverage:
To top it all off Shrem was hosting a live concert as part of the "Music in the Vineyards" series with the Napa Valley Chamber Music Festival. In the cave. So friends, fans, and tourists were lining up. You'll see a glimpse of the cozy concert hall in the video. It's quite an unforgettable scene.
Oh, and the wine! As Shrem says, it's about "quality." The whites: a Chardonnay and Sauvignon Blanc. Reds: a Cabernet, Pinot and Merlot. Combine it with the art, a little Bacchus and a Pegasus, and you pretty much have another gem of a Napa experience.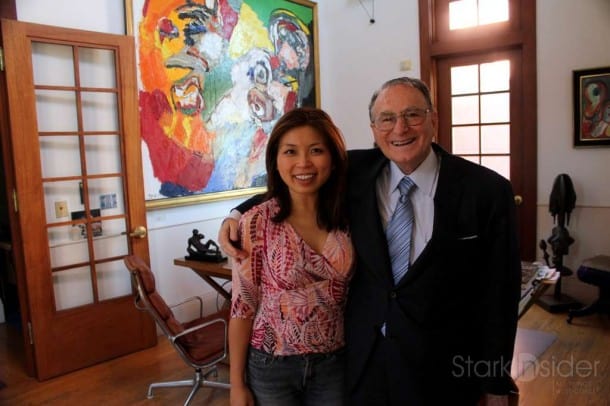 WATCH: Thumbs Up Napa: Bacchus, wine, art at Clos Pegase