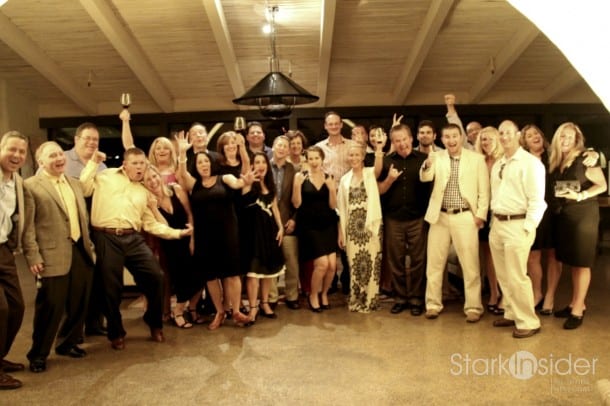 During a recent trade dinner at Mondavi Vineyard in Napa, I found myself with the good fortune of being seated next to Genevieve Janssens, the director of winemaking. It was a strike of serendipity. She had recently been named "winemaker of the year" by Wine Enthusiast magazine, and as if that wasn't intimidating enough, her french accent would keep all of us at the table musically enchanted with her knowledge, graciousness, and passion for winemaking.
Then, realizing we'd be tasting a vertical of reserve Mondavi Cabs — '79, '81, '97, '07 — I wilted a bit: they're on to me… how on earth can this chump hang without being revealed for a wall flower?
But first there was that karaoke bus ride with the distributors and sales reps the previous night, as we headed back after a long day of classes, tastings to the Avia hotel downtown Napa.
We had been invited to dove-tail the last few days of the inaugural To Kalon (pronounced "TOW kalon") certification event. Being the dog days of summer it was the perfect opportunity for the winery to summon their sales champions for a deep dive into all things Mondavi. And how to describe our co-horts and bus-mates? Lost in the reflections of glass overlooking the kept Mondavi grounds I might have mistakenly induced: shrinking, introverted and unsocial. Yes, these folks — who had flown in from Detroit, Miami, New York, Chicago, and virtually all parts of the country — were the walking equivalents of big, bold Cabs. Meaning, in their company there is no such thing as a sleepy bus ride down highway 29.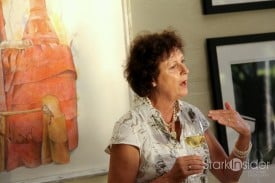 Having spent the better part of two decades in tech here in Silicon Valley, I'm more than vaguely familiar with the concept of revving up the channel at these kinds of events. There are smiles, courtesy, but at the end of the day, this is business. Big business: Constellation Brands brings in about $3.3B top line annually (NYSE: STZ). And in the wine business, distribution is critical – there are the often perplexing legal hoops associated with getting wine distributed across state lines; but there is also that lone sommelier or server in a restaurant somewhere in Ann Arbor who is making that wine recommendation right now: A Mondavi Cabernet, from the "To Kalon" vineyard… let me tell you a story about that place…
Lettie Teague of the New York Times wrote an informative piece about Andy Beckstoffer, the native Virginian whose portfolio includes the To Kalon vineyard (Mondavi owns ~ 450 acres, Opus One 130, Beckstoffer 90, UC Davis 40). "The Beckstoffer pricing formula calls for the price of a ton of To Kalon Cabernet grapes to equal 100 times the current retail price of a bottle." she writes. Earlier in the article there is a reference by Paul Hobbs regarding the pricing model: "There are blocks that are Porsches and blocks that are more like Volkswagens, although Andy sells them all like they're Porsches."
Rutherford Dust, can you hear me now?
It's been happening for years, and I suspect that the strategy of carving out terroirs (real or otherwise) and niches within established wine regions such as Napa will only grow in prevalence. Marketing and positioning equals perception. Call it the grape ambition.
And then there is Genevieve, and that vertical.
If there is ambition here — mes amis, c'est grand — it's masked in that classic French elegance. Having run north american marketing for a Paris-based software company back in the day, I know that if need be, however, she'd wrestle me to the ground, and karate chop me: "Terroir is not for children, silly American!"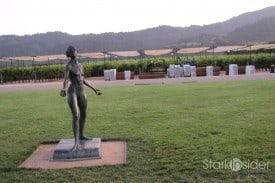 After continuing to let my imagination run for a bit thanks to the cajoling of the semi-nude "Welcoming Muse" sculpture I decide I will taste and listen carefully as we begin tasting through four decades of Cabernet Sauvignon.
Vertical tastings are one of those joys of wine tasting – it spurs conversation (what's your favorite?), ignites the senses (what is your palate telling you?), and reveals personal preferences (you're wrong!). Often the vintages are sequential. For example, a most interesting vertical will be the '08/'09/'10 cabs out of Napa, given the diversity of those three growing seasons. On this evening, however, we are given a rare opportunity to compare and contrast forty years of winemaking. There are a lot of variables at play — the climate, the winemaker, the barrels, the x-factor, etc. — and, so, at most I seek to identify my favorite.
The '79 cab reserve had aged superbly. It was a relaxed, deep brownish garnet in the glass. The structure was there, but it was nothing like the forward tannins we'd feel in the later years; earthiness was lush and welcoming. Oddly the '81, vinted just two years later, was a tad off. As we came to the '97 and then the '07 the flavor profiles became more familiar. Master of Wine Mark de Vere, who presided over the To Kalon certification, and proved to be a Napa Valley storyteller of elite proportions, explained that many consumers would prefer the later vintages, as their profiles were readily identifiable. Regarding the '97, "a lot of press loved it." And now, confirming that this fermented grape juice, this wine that makes us pontificate (okay, and at times, chug gallantly) is organic, a living thing, noted the vintage has begun to "open up" after a few years of not showing well.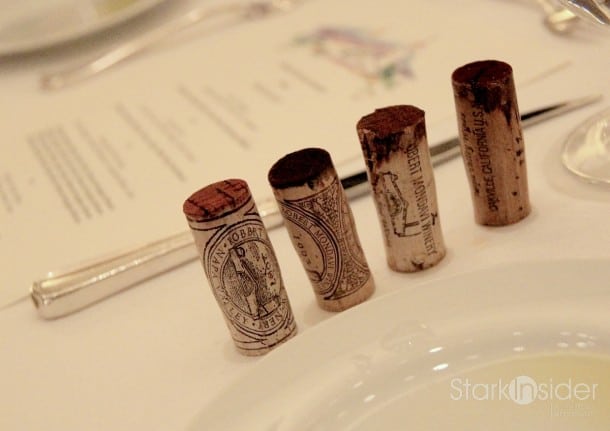 As us oenophiles are wont to do, we poll the table. The majority pick the '79 as the favorite. A former banker, now wine distributor from New Jersey, picks the '81, proving that either: (a) wine is a personal matter; or (b) there really is something in that Jersey water.
To my left Genevieve talks about growing up in a winemaking family in Southern France. She speaks about Mondavi and how he was revered even back then, in the heart of the most famous wine region of the world. What?! I ask her. That can't be possible… shouldn't Americans always play second fiddle to the French, is that not the natural order? But, it turns out Genevieve was a new breed of winemaker, one that sought to preserve tradition while pushing the envelope. And a lot of that new winemaking innovation came from the up-start, dusty roads of that little unknown place called Napa. It wasn't long before she made her way to Northern California. She'd head to Opus One for a successful run as winemaker there, before once again returning to Mondavi, where the fit c'est magique.
Later that evening Neil Diamond is singing about a song, sung blue.
Or maybe that's a beverage sales rep from Des Moines, swaying at the front of the bus, a blurry shadow with a mic in hand.
Who knew.
I was probably one more glass of bus wine away from gathering the gusto to take everyone down into a ring of fire. Instead I smiled quietly. A dark bus of happy larks bustling down 29. I had danced with To Kalon, and lived to tell — and there was nary a winemakers' bruise on my body.