Today's leaked Android photo – courtesy of Unwired View – is of the HTC M7, a flagship Android that should drop sometime this quarter: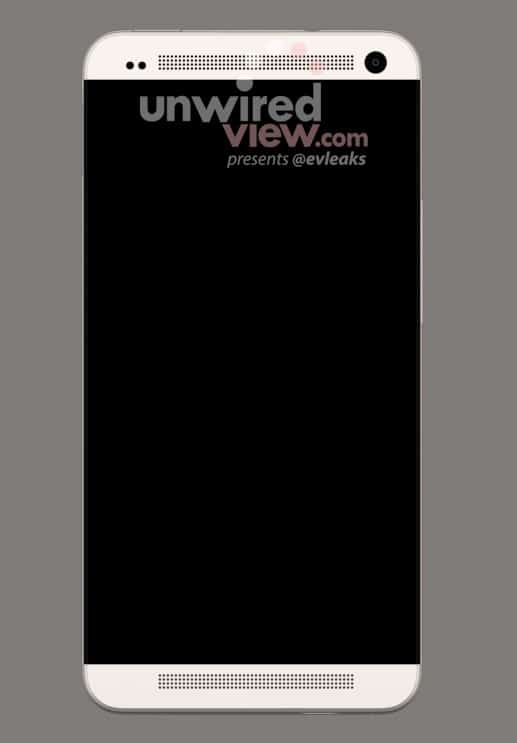 I have a Nexus 4. But I'm not enamored. Far from it. Yes, it's a decent Android – and the best example yet of "pure" Android in action. There's a lot of room, however, for improvement. Though I find its endurance acceptable, better battery life would be nice – a removable one at that would be a bonus. MicroSD storage (though I do tend to use the cloud increasingly) is welcome. LG's design is ok, if underwhelming. The Glass scratches easily. The buttons are almost too flush. And the profile already feels a tad chunky by today's standards.
And am I the only one wondering: where on earth are the Nexus 4 accessories already?!
Even though I've had the N4 for only a few months, I'm ready to move on. If you don't have one, don't fret, there's great alternatives for sale right now that are just as good as the Nexus (and in some ways even better). It's incredulous to think that Google would put so much marketing behind a phone only to have it stock out almost immediately, never again (apparently) to return for sale. I can't help but think of that word… what is it?… oh, yes… botched!
ALSO: A simple DSLR lighting solution that just works (Neewer LED panel test)
The Droid DNA is mighty tempting. New handsets that hit in February at Mobile World Congress are likely worth holding out for. Sony has some nice kit enroute. Lenovo appears ready to bring its A-game to Android. HTC and this flagship M7, as seen above in a rendering, may just be the pick of the litter. I'm a grills kind of guy. Downside: my guess is it'll be only available via carrier contract (UPDATE: some are suggesting an unlocked variant will be available for around $600). That is so 2011. I've gone unlocked (Samsung Galaxy Nexus -> LG Nexus 4) via the Google Play Store, and the freedom to switch at will sans ETA is sweetness indeed, especially for an early adopter such as myself.
What we think we know about the M7:
4.7-inch, full HD display (I wish it were at least 5-inches)
1.7GHz, quad-core processor (par for the course in 2013)
IR port at top (Not needed: I use apps for controlling my Onkyo TX-NR809 receiver, and Sonos, etc.)
Grill design (I like it)
Unveiling likely at Mobile World Congress in Barcelona
HTC needs a hit. Something to return it to profitability. I'm not sure the M7 will do it for the struggling Taiwanese firm, but I hope it helps them stabilize financials, even if only partially. The market needs more than just Samsung and Apple. So far Microsoft appears unable to up its game, and will likely continue to take less than 5% market share. We'll see soon enough if RIM can bounce back.