Bluetooth speakers are a dime a dozen. We've tested several in the past here on Stark Insider including the Altec Lansing inMotion Air (4.5 out of 5), and Soundfreaq SFQ-02 Sound Step (2.5 out of 5) and given their ubiquity I didn't take much notice when Logitech sent us a Wireless Boombox ($149). Later when I was able to carve out some time on the weekend, and on a recent trip where I brought along the speaker, when un-boxed the Boombox I felt that familiar consumer-ish, PC-ish flush that I associate with the Logitech brand. Don't these guys make mice? PC speakers? Keyboards? Surely, then, they really don't know much about quality portable audio.
But I be wrong.
Consider this neophyte humbled.
Since the rating for the Wireless Boombox is front and center at the top of this post, I'm probably not in danger of a spoiler in saying that this is a phenomenal product. From the design, and styling to the quality of build and — of course, audio quality, Logitech has proven that they do know audio. Keeping in mind the reasonable price, I'd easily put the Boombox at the top of any Bluetooth wireless speaker shopping list. And, yes, that would even include the lauded Bose Soundlink.
Not everything is perfect mind you. There's one minor caveat. I'll get to that in a moment.
Design
Logitech has done yeoman's work with the look and feel of the Boombox. It manages to feel portable, yet sturdy at the same time. Although construction is primarily plastic (with a metal mesh protecting the speakers), you wouldn't think twice about bringing this camping, to a friend's party or to the beach. There's nary a straight line. Instead, gentle curves are the order of the day which give the speaker a refined look that belies its price tag. Sure, this is still Logitech, not Marantz or Harman, but you'd be making the same mistake I did in poo-pooing the brand as a low-end accessories supplier.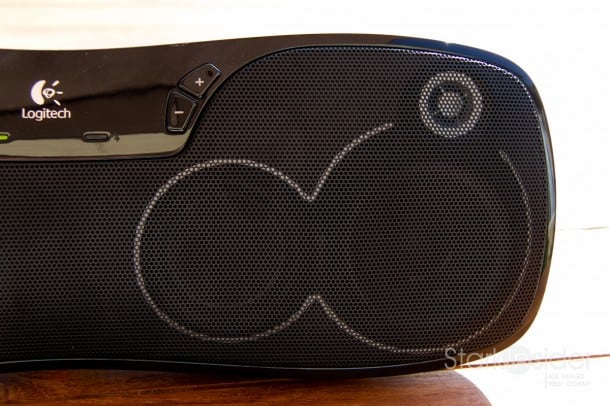 Speaker-wise, unlike a lot of the competition, Logitech goes all out, including no less than 8 drivers. On paper it could appear that it's merely a ploy to push quantity over quality. Read on to see if that's true. I particularly like that the two bass drivers are located on the rear. Placing the Boombox strategically in a corner or near a wall can really add oomph to the bass if that's your thing .. and why shouldn't it be, friendly reminder: you're reading about a Boombox.
Nice little touches abound.
A small kickstand can be unlocked by depressing an orange button at the bottom.
The rechargeable battery is removable — a rarity in Bluetooth speakers — and is easily accessible under a sliding cover in the rear.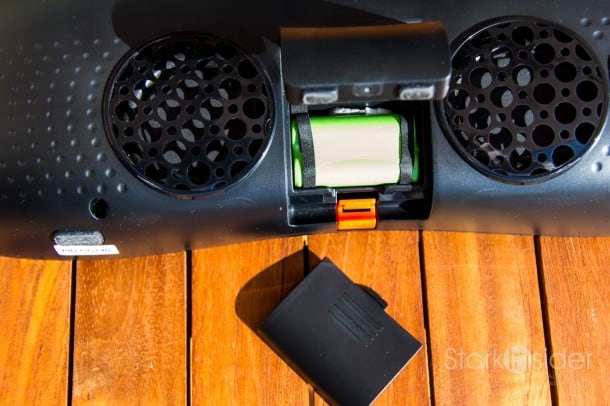 Four rubber feet (two on the kickstand, two on the main body) keep the speaker firmly planted whatever the surface.
Only four buttons grace the unit (power, Bluetooth, volume up, and volume down), and I find them attractively integrated into the overall design; again, curves as the motif.
Two indicator lights sit just below the Logitech logo. One is for power (green), the other for Bluetooth status (blue).
A small, pull-out rubber cover provides access to the power connector and 3.5mm audio output jack.
When it comes to design, Logitech hits all the right marks with the Boombox. I should note that it felt more durable than other units — including those from Altec Lansing and Soundfreaq — that have traveled through our labs. Granted it's a little larger, but with the kickstand folded in, there's no doubt this speaker can easily fit into an overnight bag, or carry-on. Or just leave it discreetly on your desk, or on a shelf at home.
Performance
But enough of that already. Sound is the thing. If this Boombox doesn't measure up when it comes to audio performance then all the aesthetics in the world won't help. Fortunately, Logitech nails it. To say I was impressed (again, at this price point) would be an epic understatement. The sound is, in a word, stellar.
I paired the Boombox with a variety of devices, including a Samsung Galaxy Tab 10.1, iPad (3rd gen), Motorola Droid (2009), and the new unlocked Google Galaxy Nexus. The process was simple. First I pushed the Bluetooth button (A2DP) to activate pairing mode (the blue status light begins flashing rapidly). Then I went into Bluetooth settings on Android and clicked "Search for Devices." Under available devices, "Logitech Boombox" appears quickly and after selecting it the device (a Galaxy Nexus in this example) is paired.
When it comes to music apps, my two favorites are Google Music (now "Play Music") and Pandora. Both worked flawlessly.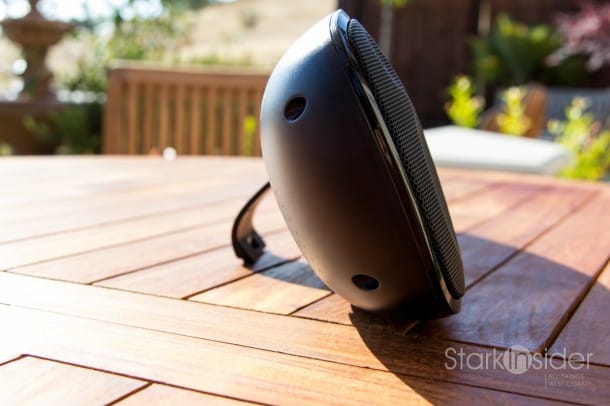 U2's Sunday, Bloody, Sunday via Google Music came across brilliantly, with intense marching bass and pounding drums, and a crisp upper range; the cymbals in particular really rounded out the tone. Bono's vocals were separated nicely.
Similarly, I was extremely impressed with the lush melancholy of Echo & The Bunnymen's Bring on the Dancing Horses. Again, tight bass, clean separation. During testing it became evident that the Logitech engineers spent a lot of time balancing the speakers, and it shows.
Power is not a concern with the Boombox. Bring this to a party and you'll be able to light up most small to mid-sized rooms. Even small-sized outdoor spaces proved not much of an issue. Best of all, when you really crank it there's very little distortion at the top end. And — did I mention — true to its name sake there is plenty of boom. Fortunately the bass is not the muddy, out-of-control kind you'll find on low end units.
For larks I sat the Boombox next to a Sonos Play:5 (review). While it performed admirably it couldn't (as expected) come close to the fullness and power of the Sonos (which I consider the gold standard of wireless in-home audio). Still, it revealed again that for the price this speaker is ready to rumble and it keen to take-on all comers.
One thing worth pointing out: when running on battery you only get 6 watts of power (RMS) versus the full 20 you'll get on AC power. That can be a bit of a bummer for some, depending on how you plan to use the speaker, and whether you're near a power outlet. Even on battery, though, I found the Boombox to outperform many of its rivals.
Now, when it comes to sound, here's my caveat:
When you play the Boombox at low volume (e.g. background music for an office) the bass can overwhelm. Often I found vocals drowned out and not as clean as I'd like. It's not a huge issue, and I should note I'm hyper sensitive to tonality, and music detail, and it's really only noticeable when the Boombox is compared side-by-side to others such as the Altec Lansing. And if you accuse me of making a ridiculous critique regarding low volume output on a device with "Boombox" in its name, then readily submit. It borders on silly, but I'm compelled to point out my observation. May I suggest though you spend most of your time with this speaker at the upper end of the volume range. You won't be disappointed.
Battery
Logitech promises about 6 hours of music on battery. In our tests this was accurate. I also found that even after leaving the unit off for extended periods, the battery thankfully retained its charge. With mobile devices – Android tablets, ahem – aren't always as efficient during in standby.
As mentioned, the rechargeable battery is removable which makes replacement a snap.
Confirmed: Logitech puts the BOOM in Boombox
Safe to say, I'm impressed. If you're looking for a portable, powerful speaker you can toss into an overnight bag, and bring on a trip or over to a friend's place, the Logitech Boombox should be on your shortlist. At the ridiculously low price point of only $149, you'll save a bunch too over the pricier competition. The Jawbone Big Jambox, for example, retails for twice the price, though granted it offers more features. May I suggest instead you use those savings to download some tracks from Google's Play Store, or maybe sign up for Spotify for a few months (why is it I don't like it?).
This is the one I'm bringing when we head down to our casa in Loreto Bay.
With solid build quality, pleasing design, stellar sound, and a price that belies its performance, the Logitech Boombox gets a Starkie, our top rating.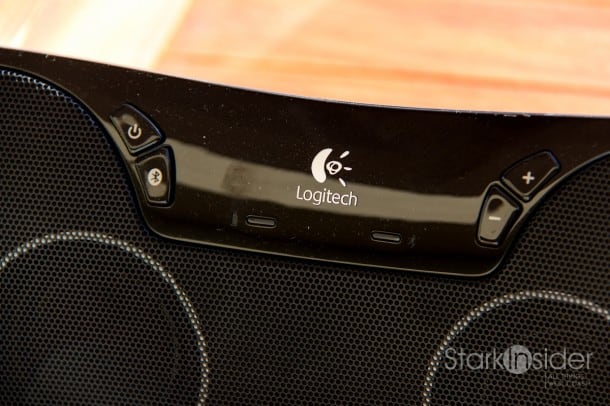 Logitech Wireless Boombox

5 out of 5 stars (Starkie! Editor's Choice)

Bluetooth speaker for iPad, iPhone, iPod touch and Android (does not support PC or Mac)

StarkIN+
8 well-balanced drivers deliver clean, bass-rich audio. Solid build quality. Pleasing aesthetics with gentle curves leading the way. Removable batter. Hand kickstand. Reliable Bluetooth performance. Watching the surprised reactions from your friends who spent twice as much for their Bose and Jawbone Big speakers.

StarkOUT–
At low volumes, bass can sometimes dominate. When running on battery, the Boombox drops power to 6 watts (from 20).

Verdict:
Incredible speaker for a ridiculously low price. Near flawless performance in its class. "Add a little boom!" … no kidding.

Price:
$149