Looking for a portable Bluetooth speaker? Prepare for an inundation of choice. In the last two years the market has exploded with all manner of models, styles, and price points. To stand out, a product really needs to offer something compelling; something unique and impressive that helps make it stand out from the crowd. Unfortunately for the Soundfreaq SFQ-02 that's a tough proposition. Read on to find out why, and for our verdict on the newest portable speaker in the Soundfreaq lineup.
Design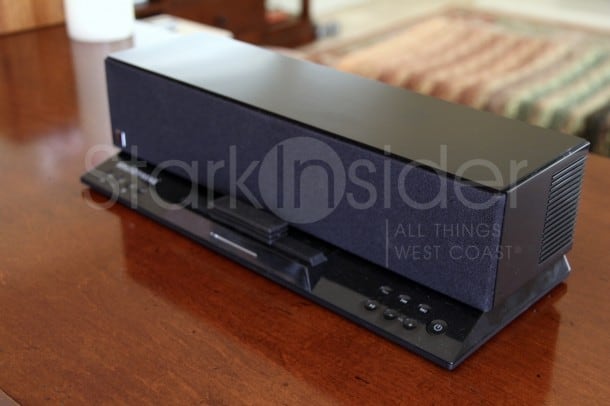 This is a compact speaker that should fit in most tight spaces in and around the home or office. At only three pounds it's light enough to pack away into an overnight bag, and maybe even some (extra) large purses. We like the finish – there's a high grade feel to the plastics, and the dimpled buttons are easy to the touch. Orange lights give off a cool vibe. Note that there is fabric over the speaker grill, which could cause concerns for durability on the road. Overall, we like Soundfreaq's aesthetics and build quality.
Features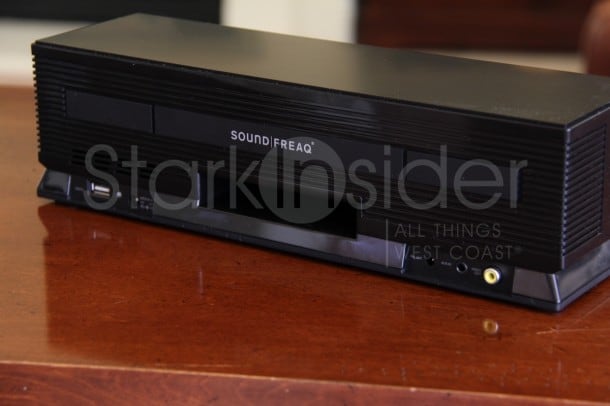 The SFQ-02 is loaded with all sorts of goodies. An included rechargeable battery is rated at over 6 hours (a claim we found consistent with our tests). Three speakers power the beat: 2 x 2″, 1 x 3″ drivers.
There's the requisite Bluetooth (A2DP) which worked perfectly well in our testing. Push the "pair" button and you can easily pair the speaker with an iPad, Android tablet or just about any other Bluetooth device that supports media streaming. A dock located front and center can accommodate Apple devices, such as an iPad, iPhone or iPod Touch, which will allow you to simultaneously stream tunes while charging. Controls located to the right of the front lip provide a convenient way to pause, skip tracks and adjust volume (you can, of course, also do this via the paired device).
The SoundFreaq SFQ-02 also comes with a few extras that we don't normally see on other Bluetooth speakers. First, a composite video output is located on the rear. Simply connect it to a television, and you can watch video from your docked device. It's a nice to have, but in a world of HDMI and HD we wonder how many buyers will actually use the feature. Then there's a USB connection; a nice touch, it enables you to charge a device via a USB cable. You could use it to charge your spouse's phone, for example, while yours sits in the main dock. Or you could charge a small MP3 player while using it via 3.5mm to stream music (for those that feel Bluetooth denigrates the signal too much for their liking). I'm not a fan of over-processing and special effects, so I wasn't keen on the "UQ3 spatial enhancer." Turning it on (via a button on left front panel) tended to add reverb, and echo, lending music a painfully thin effect. It may be useful for movies. I did not test it, as my main focus is music performance. SFQ-02 impresses with an impressive roster of features, especially for its price. However…
Sound Quality
Performance when it comes to sound quality is a disappointment.
To clarify, I am particular when it comes to my audio. I cringe when I detect any type of distortion, and loath the hollow, old FM radio type sound. Unfortunately, the SFQ-02 suffers on almost all counts. It does have impressive bass. And, to be fair, if you simply wanted to stream background music in an office, or quietly at home you'd likely find it perfectly suitable. Those with more discerning tastes will need to look elsewhere. Mid-tones were muddy, with little to no separation.
We tested everything from Green Day's American Idiot and Mozart to Lady Gaga and Michael Bublé and our conclusion was almost always the same: the SFQ-02 sounds okay at low volume, and gets increasingly worse as we turn it up. As we said bass is reasonable, but the mids are mushy and there is none of that crispness we'd like to hear in the highs. There's no mistaking the lack of fidelity here. If sound quality is high on your list you'll need to consider the Logitech Wireless Boombox, Altec Lansing iMW725 inMotion Air or Bose SoundLink. All are more expensive — though some by only $10-20 — but you'll likely be far more satisfied.
Final Verdict
For $139 we expected better performance from the Soundfreaq SFQ-02, especially considering their top range model, the SFQ-01, is so highly regarded. Unfortunately the lineage did not trickle down. The extras such as the USB port and composite video output are gimmicks we suspect many won't care about.
It's hard to recommend as the SFQ-02 as a low-cost streamer, when there are so many better alternatives out there, some, like the JBL On Stage IIIP for well under $100.
Soundfreaq SFQ-02 Sound Step Bluetooth Wireless Audio System

2.5 out of 5 stars (Ho-Hum)

StarkIn:
Quality build; player controls (pause, forward, back, volume) on front panel; portable design; lasts over 6 hours on charge; flexible dock for Apple devices.

StarkOut:
Poor audio performance for the price; muddy mid-range; lots of distortion when system is pushed; extras likely more gimmick than useable

Verict:
For $139 we expected better performance from the Soundfreaq SFQ-02, especially considering their top range model, the SFQ-01, is so highly regarded.

Price: $139.99