You may be surprised to discover that portable speakers needn't sacrifice sound quality. The latest example is the Altec Lansing IMW725 inMotion Air ($199). I've been testing a slew of these small, rechargeable, Bluetooth speakers — from Bose, Logitech, Soundfreaq, among others — and have come away quite impressed. For under $300, sometimes far less, you get a portable speaker you can easily tuck into an overnight bag, or large purse. Filling a room with lush jazz, pumping bass at your next outdoor party, or just enjoying some background tunes at the office are all perfect excuses for having one of these little guys hanging around. Thanks to Bluetooth, you can kiss your wires goodbye. Just a year or so ago I would've scoffed at the idea, but sound quality over wireless is surprisingly rich, full. Best of all you can pair these speakers with just about any device you can throw at it: iPad, iPhone, Android tablet, PC, Galaxy Nexus… you name it.
But, there is so much choice. Which is best? In our latest in our Bluetooth speaker round-up, we test the Altec Lansing.
Design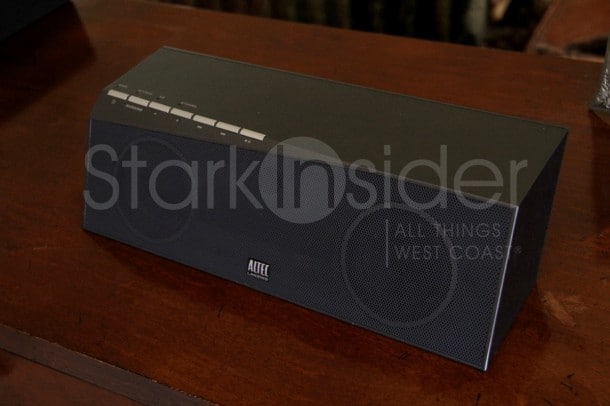 A quirky, modern looking wedge, the IMW725 inMotion Air by Altec Lansing has more in common with Ikea than Magnolia Hi-Fi. That's not a bad thing. In a sea of look-a-likes I can appreciate the angular lines; I particularly like the interesting arc that cuts across the front speaker grill, leading the way to a very linear, precise row of rectangular controls. There is no cloth here and therefore no risk of tears, which makes the inMotion Air a robust speaker for outdoor use. A small opening in the back acts as a handle. Next to it is an integrated storage space for the remote control (which, incidentally, I don't use, instead favoring to control the music via Bluetooth). As we see with all of these portable speakers, the power adapter is an external brick. Dimensions are tidy, and in line with others in its class: 5.5 x 16.7 x 7.2 inches. At 3.5 pounds the inMotion Air is, well… air-like and easy to tote around. No issues there. Each of the buttons have a re-assuring click upon press. There are small lights for Bluetooth (blue) and power (orange). Oddly they tend to blink a lot, even when devices are successfully paired and the speaker is running on AC power. A minor quibble, but worth pointing out. Overall, this is a classy looking and well-made Bluetooth speaker.
Features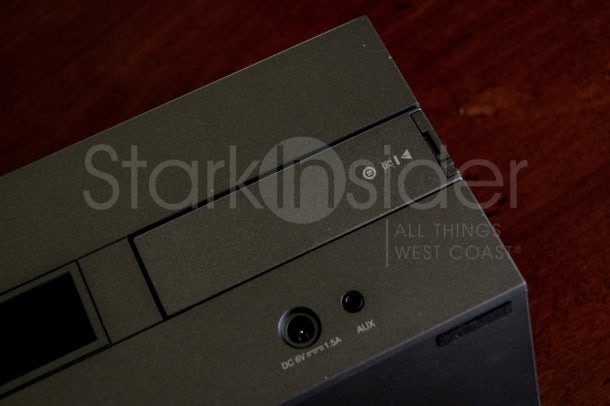 The IMW725's Bluetooth (A2DP and AVRCP profiles) supports streaming up to 33 feet, a claim we found consistent with our tests. I was consistently able to stream music via a Samsung Galaxy Tab 10.1 and Apple iPhone without a hitch. After a simple pairing process which involved holding down the Bluetooth button on the iMotion Air I experienced no drop outs, no hiss/crackle. An included USB transmitter extends range even further, up to 333 ft – I didn't test this as the standard Bluetooth was plenty good enough for what I was looking for. It's worth noting that the IMW725 utilizes the apt-x codec which enables "CD quality" audio via Bluetooth. Whether or not this will matter to you is a matter of preference, but in my testing (see below for audio performance) I'd say the technology does make a difference. The rechargeable battery lasts up to 7 hours on a charge, and, unlike the Logitech Wireless Boombox for example, there is no drop in quality when you switch from AC power to battery. Also, I like that you can pause music, adjust volume and skip tracks from the controls located on the top left.
Sound Quality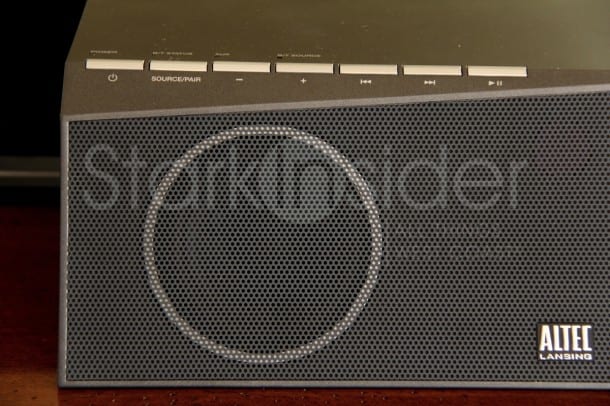 Two 3-inch speakers deliver impressive range. You might think that something like the Logitech Wireless Boombox with its 8-speaker design would kick the inMotion Air to the curb. But in my tests, I found the two neck-and-neck in the sound quality department. And I ran everything at the inMotion Air: country, rock, hip-hop, classical, and… Green Day. Oh, yes, we blasted American Idiot. The rock opera is a perfect test; there's so much sonic destruction here, it can quickly bring the most well-engineered sound system to it knees. Bass was respectable. You're likely not going to win any Dr Dre comparisons. And forget about out-bassing that Honda Civic at the stop light. Still, there's enough presence to please. I particularly like that there's no vibrations or muddiness. Highs are well defined, stopping just short of crisp perfection. Mid-range is also punch, and solid with an overall warmth that defines the signature. Pushing the volume yielded very little distortion. Only at the loudest end of the range with something like Lady Ga Ga's Marry the Night did we start to feel the poor guy start to break a sweat. Regardless, sound quality is superb. I'd rank the iMotion Air right up their with the aforementioned Logitech Wireless Boombox and Bose Soundlink as my top three favorite portable speakers.
Final Vedict
The Altec Lansing IMW725 speaker is a winner. I like the unique styling. It brings a satisfying and useful amount of features to the party. And, best of all, the sound quality is top drawer, even challenging the likes of the Bose Soundlink, but about 33% less expensive. Bluetooth pairing worked exceedingly well. Highly recommended. If you find the IMW725 on sale, jump on it.
Altec Lansing IMW725 inMotion Air wireless speaker

4.5 out of 5 stars (Right on the Money)

StarkIN:
Rich, full sound quality; admirable stereo separation; quality mid-range; classy and unique design; excellent Bluetooth performance; portable with convenient handle cutout in back; remote; apt-x codec produces clean, elegant fidelity.

StarkOUT:
Power and Bluetooth lights blink frequently; bass though good not quite Dr Dre worthy.Mike says:

Verdict:
Robust build quality, stand-out sound help separate the inMotion Air from the portable Bluetooth speaker crowd. Forget Bose Soundlink, buy this for better sound at almost half the price.

Price:
$199
PHOTO GALLERY: Altec Lansing inMotion Air IMW725