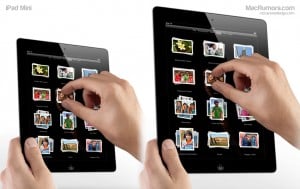 Word is Apple will go back to school in style, with both a refreshed iPhone and smaller iPad dropping this September.
The iPhone 5 as its referred to by the media will reportedly be announced on September 12 and ship on the 21st. The unofficially named iPad Mini, likely featuring a 7-inch screen, is expected to join along for the ride, and be included in what could be a mega-launch for the ages.
If the rumors come true (and these days the grapevine has been overwhelmingly accurate), Apple will be finally attempting to deliver a non-patent blow to Samsung.
With the Android-based Galaxy S III smartphone topping 6 million units last quarter (it's available on all the major carriers including AT&T, Verizon, Sprint and T-Mobile), and the Nexus 7 tablet selling out, Samsung has been on a roll this summer.
Many were underwhelmed by the 4s which Apple launched in the fall of 2011. Siri did impress and demonstrated the potential of mobile speech recognition, but there were no major changes to to the form factor. Worse still, unlike the competition running Google's Android operating system, the iPhone 4S does not run on 4G/LTE networks and in a world of increasing resolutions only comes in one screen size (3.5-inch).
Meanwhile, Google has a surprise hit on its hands with the Nexus 7, a 7-inch tablet running its latest software, Android 4.1 ("Jelly Bean").
Priced at just $199, the Nexus 7 costs less than half of Apple's entry $499 iPad. Amazon's Kindle Fire is also priced the same, but doesn't feature the speed, or flexibility of Google's offering (you can't access the Google Play store, for instance). The slick tablet has been selling out – both online and in stores – suggesting that consumers do want a smaller, more portable alternative.