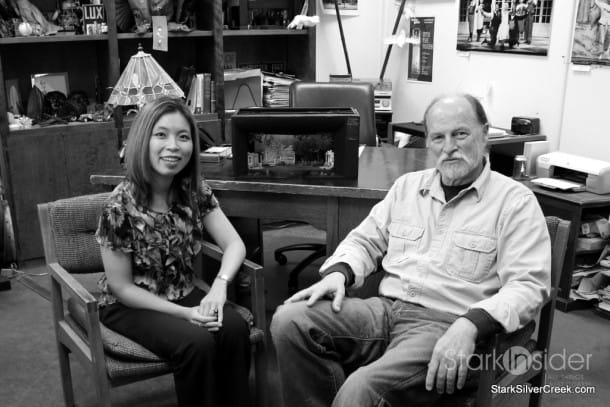 Some uplifting news for fans of San Francisco Bay Area theater.
TheatreWorks has announced they are close to securing a full-time home, where they'll be able to host some 265 annual productions, a new works festival, and art education classes.
In an email just minutes ago, artistic director Robert Kelley wrote, "The City of Palo Alto and Mr. John Arrillaga, a prominent local builder and philanthropist, invited TheatreWorks to join discussions about a new theatrical home for the company.  If approved and constructed, the new theatre would highlight a proposed development at the western entrance to Palo Alto between the train station, University Avenue, and El Camino Real."
Planning is still in the early stages, and even if everything progresses smoothly it could take upwards of five years to built the new theater. Regardless, this is a huge step in the right direction for a theater company that has been staging some of the finest productions in the country for over four decades. Count 'em, folks. Kelley, a Stanford Graudate, founded TW back in 1970. Wouldn't you know it? That was the year All Right Now by Free was climbing the charts. How fitting!
Currently TheatreWorks rents the gorgeous Lucie Stern Theatre in Palo Alto and the Mountain View Center for the Performing Arts. Almost a century later since its founding a grand vision could be close to becoming reality: "We imagine TheatreWorks as the centerpiece of a vibrant arts scene, framed by Stanford University's Arts Center and Concert Hall and by the classic movie theatres and art galleries of downtown Palo Alto."
more TheatreWorks SV

'The Pitmen Painters' at TheatreWorks leaves lasting impression

Bay Area Theater – Must-see shows
If the proposal goes through, TheatreWorks would be responsible for "designing, funding, equipping, and maintaining the interior of the theatre building," which would be their own.
Karen D'Souza, theater critic for the San Jose Mercury News (Bay Area News Group), noted in an article breaking the news that "getting a venue of its own would be a milestone in the life of the regional theater powerhouse, which was founded by Kelley in 1970." And added: "Though it has long been financially stable and well-regarded, giving birth to such hits as the Broadway blockbuster "Memphis," the troupe has never had a theater to call its own."
[SJ Merc and email from TW artistic director/founder Robert Kelley]
WATCH: Robert Kelley on TheatreWorks, theater, To Kill a Mockingbird