TheatreWorks serves up a thoughtful and charming play about a rag-tag group of miners in Northern England who decide to pursue their dreams by becoming part-time painters. During an art appreciation class, "professor" Robert Lyon (Paul Whitworth in a charming, award-worthy performance), frustrated by the working class men's inability to grasp the meaning of art and its creation, suggests that they give it a go themselves. What better way to explore art than to dive head long into the artistic process? Laughs and learning ensue as each student reveals their masterpieces – most featuring pitmen tolling away in the mines – to their classmates.
Penned by Lee Hall (Billy Elliot) and based on a true story, the Pitmen painters became a minor sensation. Their paintings even attracted the attention of high-end collectors. The revelation that the working class could make inroads in the haughty-taughty world of fine art was a revelation for the 1930s. Socialism, Marxism, and working for the man all come in to play. Is art, for example, best when it represents the true, authentic self or when it conveys the struggles of a class, or, in this case, a group of miners?
At the "interval" I realized something. I was learning a lot about my own perceptions of art. While this is an endearing production Hall's script doesn't gloss over in-depth, meaningful dialogue in pursuit of a quick laugh. When the actors talk at length about a modern piece featuring a circle cut out of a block of wood, I found myself intrigued by the interpretation by protege Oliver (Patrick Jones).
Andrea Becher's set is a master stroke in itself. Chairs, a few doors at either side and easels channel a simplistic aura at first blush But like a layered work, more is revealed throughout the show, in large part thanks to some pretty projections that give us close-ups of the various paintings being discussed.
More San Francisco Bay Area Theater and News:
This is the second show I've seen in recent months featuring painters and creative expression; the other being the equally appealing A Weekend With Pablo Picasso at Center Rep Theatre. But unlike the latter which was a first-hand account of an eccentric genius, Pitmen is about art as a process, and – more importantly – its ability to move us, to reveal emotions and feelings.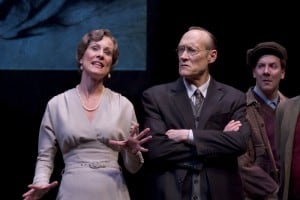 If there's a weakness here, it's the second act. Unfortunately it doesn't quite maintain the wit or laughs of the first sixty minutes, and the ending features an oddly placed musical number. James Carpenter, always a Stark Insider favorite, exudes stoic magnetism once again, but I couldn't help feel he wasn't used to full capacity.
The Pitmen Painters is exactly why I love live theater. It challenges and provokes. After the show (and wonderful opening night reception), heading down highway 101 my wife Loni and I talked (and argued in hushed tones) about what art means to us. I'm convinced that exploring the other side of the brain is a highly rewarding pursuit, especially for us in Silicon Valley who often find ourselves navigating an iPad instead of a non wi-fi enabled device such as an artist's brush. On this evening I was reminded once again that the the creative self is one worth nurturing and sharing as often as possible.
The Pitmen Painters

4 out of 5 stars

TheatreWorks Silicon Valley
Mountain View Center for the Performing Arts

Directed by Leslie Martinson
Starring James Carpenter, Jackson Davis, Dan Hiatt, Patrick Jones, Nicholas Pelczar, Marcia Pizzo, Paul Whitworth, Kathryn Zdan