It's a busy week in theater! Here's the shows not to miss (see below).
From San Jose to Palo Alto and Berkeley to San Francisco and just about everywhere in between, Stark Insider – the number one rated theater site in the San Francisco Bay Area – continues to deliver the broadest reviews, most comprehensive interviews, and exclusive backstage interviews. Thanks for tagging along. We love live theater, and are glad you do too.
Last year Team Stark covered 121 live performances, and this year we look to bring you even more coverage.
In 2009 we set out on a mission. Our goal was to fill the gap left by traditional media's cutback in local arts coverage. It all began with The Kite Runner at the SJ Rep ("a thousand splendid standing ovations") – our first review. From there we grew exponentially; scooting up and down the peninsula, discovering great theater houses both big (ACT, Berkeley Rep, SJ Rep, TheatreWorks) and small (Magic Theatre, Pear Avenue Theatre, Cutting Ball). Size didn't matter, and neither did budget. It was always about the thrill. The thrill of a live performance. The thrill of watching actors challenge themselves. And the thrill of having playwrights expand our points of view.
Along the way, others joined in our mission. After New York, the SF Bay Area is the largest theater market in the country, and we could not do it alone. My thanks to the prolific Cy Ashley Webb. Having her write for Stark Insider is an absolute honor; so many have written me expressing gratitude for her intelligent, though-provoking reviews and commentary. I concur! Also my sincerest thanks for so many others that volunteer their time to the arts including Gregory Alonzo, Patricia Reardon, and Loni Kao.
Now: Let the show begin…
West Side Story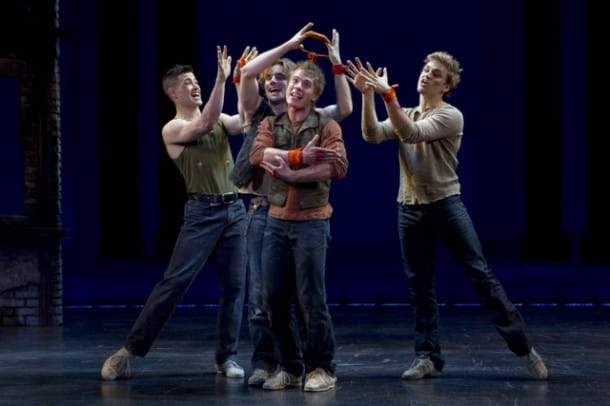 Broadway San Jose
Redwood City
Opens: January 17, 2012
More than fifty years ago one musical changed theater forever. Now it's back, and mesmerizing audiences once again. From the first note to the final breath, West Side Story soars as the greatest love story of all time. Tony Award-winning librettist Arthur Laurents' Broadway direction is recreated for the tour by David Saint, the Associate Director on Broadway. West Side Story remains as powerful, poignant and timely as ever. More coverage on Broadway San Jose.
Humor Abuse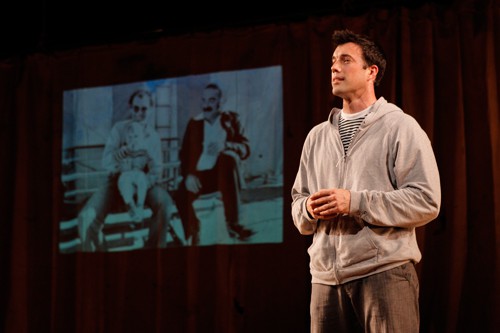 Bay Area Premiere
Created by Lorenzo Pisoni and Erica Schmidt
American Conservatory Theater (A.C.T.) – Presented in association with Seattle Repertory Theatre
San Francisco
Opens: January 18
In this hilarious stage memoir filled with stupendous physical feats, Pisoni takes us under the big top with the incredible true story of growing up as the youngest member of San Francisco's Pickle Family Circus. Celebrating the complicated, no-holds-barred life of a performer, Pisoni shows off the tricks of the trade he learned from his father, Pickle cofounder Larry Pisoni. A hilarious and heartfelt event that will delight audiences of all ages, Humor Abuse dazzles with unforgettable stories and mesmerizing routines—all performed by the "one-man whirlwind" (WOR Radio) Lorenzo Pisoni. More coverage of A.C.T.
Double Indemnity
San Jose Repertory Theatre, co-production with A Contemporary Theatre, Seattle
Opens: January 19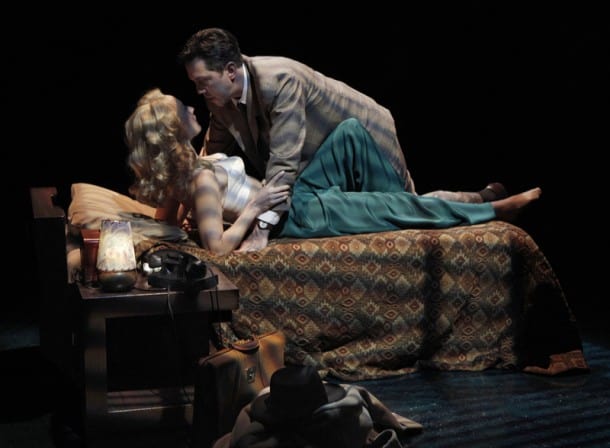 From the dark and dingy streets of LA comes a treacherous tale of love and murder. The beautiful and seductive Phyllis Nirlinger unveils a cold-blooded scheme to murder her husband, but not before first taking out an insurance policy on his life—one which pays double if her husband dies in a fall from a moving train. Smart-talking insurance agent Walter Huff falls victim to the persuasive femme fatale. Caught in a web of greed and lust, the adulterous couple commits the almost perfect crime leading to guilt, suspicion, and betrayal. More coverage of San Jose Repertory Theatre.
Marvin's Room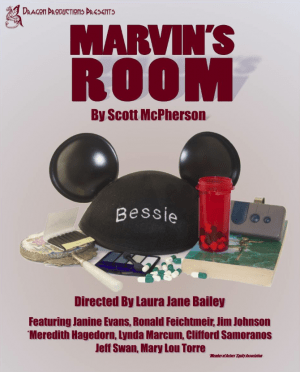 Dragon Theatre Productions
Palo Alto
Opens: January 20
A darkly humorous look at life, death, mental illness, and family, Marvin's Room is the story of two estranged sisters who are reunited when one of them needs the family to be tested for a bone marrow donation. 1992 Drama Desk Award for Best Play. More coverage of Dragon Theatre Productions.
The Pitmen Painters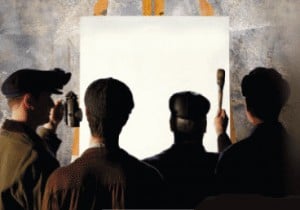 West Coast Premiere
TheatreWorks
Mountain View Center for the Performing Arts
Opens: January 21
From the writer of the mega-hit film and musical Billy Elliot comes another absorbing London/Broadway success! A funny play that asks big questions, it tells the rousing, true story of a hardscrabble group of 1930s miners who take up painting and become sensations of the British art world. Their exhilarating journey from pit to pinnacle overflows with spirit and laughter, as rich and intriguing as the art it unveils. More coverage of TheatreWorks – Silicon Valley.