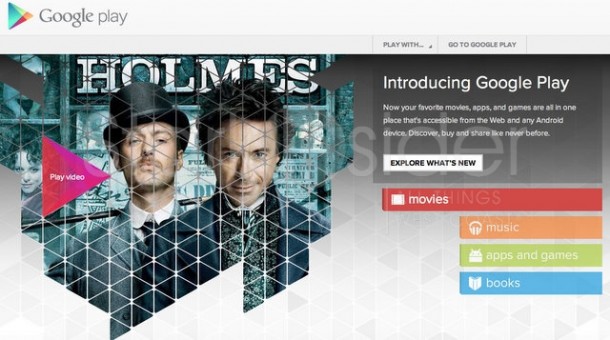 What's in a name? We're about to find out as Google today "launched" Google Play. My first impression is that this is simply a re-branding exercise. Out is Android Market. In is Google Play. It's no secret that the search giant has struggled with a content strategy to counter Amazon and Apple, and this is yet another attempt to shore up its diverse offerings — movies, musics, apps, books — into a marketable, high margin business. However, with this latest move, especially because of Play's family-friendly messaging and look and feel, I fear Android is losing its techno-centric differentiation, and rather than play to its hardcore strengths Google is running headlong into the jaws of Cupertino.
Next question then: what's different with Google Play?
In terms of functionality at this point, it looks like very little – maybe even nothing.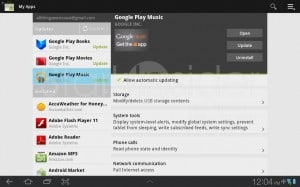 Updates are available today in the Android Market… er, in the "Google Play" place for: Google Play Books, Google Play Movies, and Google Play Music. The most important to me is Music, a fantastic cloud app. For Books I use Kindle, and movies Netflix, and Amazon Prime. When I loaded the updated Music app (now version 4.1.513) on both a Samsung Galaxy Tab 10.1 and Samsung Galaxy S II I couldn't spot a single difference, at least after playing around with the interface for a few minutes.
Again, I suspect this is a brand unification strategy. One part of that is to simplify naming conventions and ensure consumers understand that "Play" is a one-stop shop for all content related to Google. Kicking the "Android" moniker to the curb sheds some of the techy vibe that's associated with the brand — and I think that's a mistake. A huge mistake.
One thing Google should never do is try to play catch up to Apple on Apple's turf. That's a losing proposition.
more STARK Android

Google preps Kindle Fire killer – 3 potential roadblocks

Samsung Galaxy S II to get Android Ice Cream Sandwich this month
Google did well with Android. It appeals to the non-Apple consumer; those of us who aren't in a rush to adorn our smartphones in pink, jewel-encrusted sleeves. And apparently there are many of us. Just take a look at the latest mobile market share numbers: Android is either neck-and-neck or slightly ahead of iOS depending on the research firm.
If Apple is slick, colorful, and app-friendly, then Android is powerful, customizable, and (partially) open. And the better for it.
With "Play" though it seems as though Google is running headlong into the gaping jaws of Cupertino.
Instead, Google should "play" up its techy roots. Not run away from them. Android has a loyal, hardcore customer base for a few reasons: (1) the aforementioned loyalists; (2) the breadth of devices running Android; (3) the value-play such as low cost smartphones, and $200 tablets.
There are also some regrettable outcomes as a result of "Play":
the logo is reminiscent of the ill-fated PlayForSure DRM initiative from a few years back
the verb "play" does not work in some contexts; for example, "Play with books"
Android has great brand recognition, Play does not
I appreciate that Google is trying to bring all of its content – books, movies, apps, music – under one umbrella brand. But they would do well to not ostracize the hardcore base that got it where it is today; by going Disney with look and feel, and heading down the path of a dumbed-down user experience more suitable for mom and pops, Google could very well be running headlong into the jaws of Cupertino.