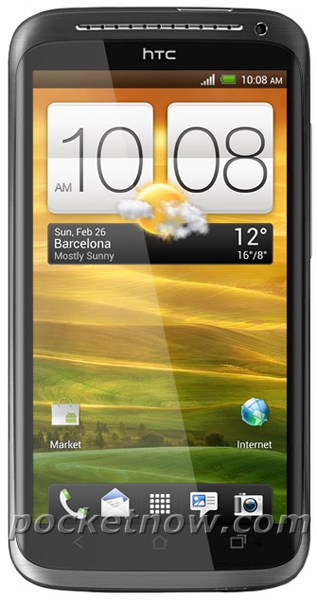 Sort of. Pocketnow seems to have the market cornered when it comes to renderings of upcoming Android smartphones. The lastest — and the one I'm most anticipating at MWC next week in Barcelona — is the HTC One X.
Apparently this is the "official" rendering that has surfaced, though I'm not sure of the source since it's not mentioned, so, again, take this with a grain of Photoshop.
I've been hanging, waiting for what seems like an eternity, to my bruised and battered and aging OG Moto Droid for one simple reason: Quad-core Tegra 3.
While I don't normally hyper-focus on "speeds and feeds" as we used to call them at Cisco, I suspect we're on the verge of astounding apps. Ones we've never imagined. Forget about simple Twitter feeds, maps, and social apps. I'm talking 3-D, wild real-time graphics processing, full-blown computing applications (e.g. Ubuntu for Android x 10) and extraordinary cloud computing capability – not just Dropbox and file syncing. So if you think dual-core cuts it now, wait another 6 months. It's going to blow our minds. Hence, the need for quad-core power in the hand, man.
What's ironic about the hoopla surrounding the frustrating Samsung Galaxy Nexus launch at the end of last year is that despite all the hype, and expectation, the Samsung Galaxy S II that we have in-house here at SI continues to outperform the Nexus in most tests. Don't get me wrong. ICS is sweet. I also like the softkeys on Nexus (I think it's the way forward… lets lose the physical buttons already!). But isn't it odd that a smartphone over 8 months older can outperform a brand new flagship? Something tells me there's optimization and bugs to tend to. And Nexus battery life… please don't get me started again.
Regardless, it's a good time to be an Android junkie.
Next week we should see at least 4 new quad-cores, possibly more.
By my count we've got: HTC One X, LG Optimus 4X HD, Huawei Ascend D1 Q, and something as yet to be named by — interesting this — Fujitsu. A good year for Android hardware, not so much for product names…
Truth be told, I would like to see quad-core entries by Samsung and Motorola. Either would most likely immediately jump to the top of my ideal OG Droid replacement list. I like Moto's build quality. And with the domestic auto industry on the mend (2013 Ford Fusion ftw) I admit to having a slight "buy American" stance. As it stands I've got my eyes on the HTC One X – and continuing skepticism around HTC Sense. I'm hoping that rendering is wrong. Those aren't Nexus-like softkeys.
Two days to go…