According to Comscore, Google Android took additional market share q/q and is still the top smartphone platform with 48.6% of the market for smartphone subscribers. Apple, which also saw growth in the quarter, comes in at number two with 29.5% share.
Decliners for the quarter (ended Jan 2012) include the usual suspects: RIM, Microsoft and Symbian.
Samsung (25.4%) continues to lead as the top mobile OEM, followed by LG (19.7%), Motorola (13.2%), Apple (12.8%) and RIM (6.6%).
more Google news, opinion

Google runs headlong into the jaws of Cupertino with 'Google Play'

Google preps Kindle Fire killer – 3 potential roadblocks

Samsung Galaxy S II to get Android Ice Cream Sandwich this month
In terms of mobile content use, text messaging is still the most popular use for smartphones, with 74.6% of users using their phones to send texts. However, with just under 5% q/q growth, the fastest growing categories are apps and browser which half of all smartphone users indicate they use on their smartphones.
There are now 101.3 million U.S. smartphone subscribers.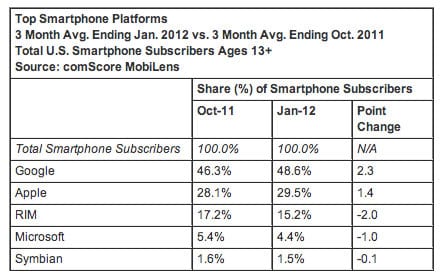 StarkIn: Q1 Mobile

No real surprises here.

Google Android, with its open, multi-vendor approach continues to lead the market by a long shot. Apple, meanwhile, still holds almost a third of the market, and with its vertically integrated strategy commands premium pricing, and, hence, higher margins.

What to watch for: Microsoft Windows 8.

Microsoft has languished in the mobile space. That could change in 2012. With a unified OS in Windows 8 on deck, Microsoft will likely become the #3 player in the tablet and smartphone markets.

RIM: unfortunately, nothing has convinced me yet that their fortunes will change. — Clint.
[Comscore]