UPDATE – once again, dpreview is the definitive source when it comes to DSLR reviews. In this case their 8-page Mk III hands-on preview is most informative.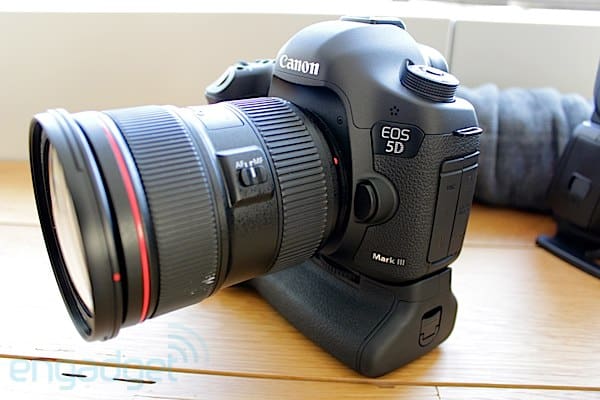 What D4?!
Canon announced the long awaited EOS 5D Mark III today, and the DSLR world is abuzz, despite Nikon's every attempt to make it otherwise. Wouldn't you know it, the body looks just like the spy shots I wrote about the other day.
I find it interesting that Engadget says this is not a replacement for the Mk II. Rather this model, they suggest, will sit between the the aforementioned classic and the upcoming EOS-1D X. Considering the Mk II's success this is not a farfetched hypothesis; if I can find a MK II at a discounted price, I'm all for it.
Okay, enough of that. The Specs, man, The Specs: 3.2-inch rear LCD, Digic 5+ processor, 22.3 MP CMOS sensor, 61-Point High Density Reticular autofocus, dual memory card slots (SD and CompactFlash) an extended ISO range of 50 to 102,400 (100 to 25,600, natively), OVF with 100 percent coverage (vs 98 previously), and a maximum 6 FPS burst speed.
I'm most interested in the video performance.
I like that the Mk III has audio monitoring. But I'm most intrigued by ISO performance up to 128,000. Is that even usable?! If it can somehow produce decent footage in low light then count me interested. That would mean I could use all my Canon glass, and produce better results at night time or in low light situations – like the film festivals (theaters are dark!), Napa Valley (barrel rooms are dark!) and Disney (ice rinks are dark!) shoots I've found myself inexplicably filming recently.
Net-net: it sounds wonderful. Yet I still dream of EPIC to tell you the truth. My 60D is still an amazing workhorse, though I could use better low-light performance when it comes to video. Being top dog? Well, that, as they say, is priceless.
According to the Canon press release:
"The Canon EOS 5D Mark III Digital SLR camera is expected to be available at the end of March 2012 and will be sold in a body-only configuration at an estimated retail price of $3,499.00. The EOS 5D Mark III will also be available with the EF24-105mm f/4L IS USM zoom lens in a kit for an estimated retail price of $4,299.00. The Wireless File Transmitter WFT-E7A is scheduled to be available by the end of April 2012 at an estimated retail price of $849.99. Availability for GPS Receiver GP-E2 is expected by the end of April 2012, with an estimated retail price of $390.00.Battery Grip BG-E11 is scheduled to be available at the end of April 2012 for an estimated retail price of $490.00. The Speedlite 600EX-RT and Speedlite Transmitter ST-E3-RT are also scheduled for end of March 2012 availability at estimated retail prices of $629.99 and $470.00 respectively."
Stunning, yes… I think so. But at $3.5K I'm not so sure.
Who am I?! I'm Clint! This is my #BlackSwan work…
Canon EOS 5D Mark III