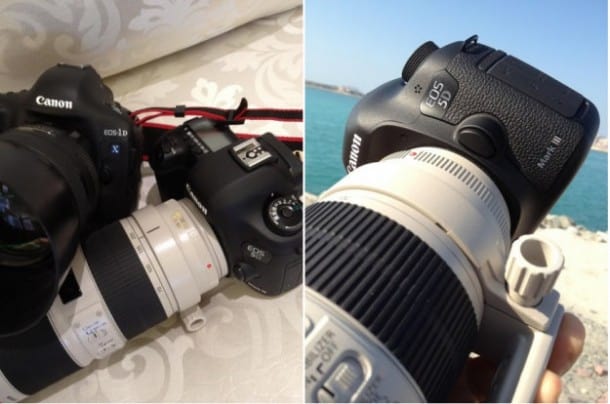 Yes, I'm trafficking in rumors. Indulge my ego, pretty please, as I think this is worth the risk. Word is that these are "convincing" leaked photos of the hugely anticipated Canon EOS 5D Mark III DSLR camera, and likely the real, tantalizing deal. At least according to (fittingly enough) Canon Rumors. Have a look below and judge for yourself. The official announcement from Canon is expected March 2.
What we (think we) know is this: the 5D Mark III will be a wicked beast. The specs say it all. 22 MP full-frame sensor, 61-point AF system, 3.2-inch LCD display, 100% viewfinder and dual CF/SD card slots.
And you thought your Rebel T2i was hot stuff!
The specs are almost — almost — enough to make me stand next to the Grape Crusher in Napa and scream out, "Epic who?!"
Those that have followed our video trials and tribulations here on Stark Insider will know that I started out, innocently enough, with a Canon Vixia camcorder. I took it everywhere. Shot interviews with local stage actors in 2009. Then went backstage with Cirque. Soon enough, I fell for the DSLR craze and plunged without regret into the world of the Rebel T2i. Even though I've since added an EOS 60D, I'm still in awe of the T2i/550D, and use them both for all our SI videos.
Shot with Canon EOS 60D: Glenn Close
However, I've always wondered… what if…
What if I upgraded to the 5D II. Or, waited a few months, like I'm doing currently with my Motorola Droid, for the next best thing?
From what I know the Mk III body will come in at approximately $3,500. That's steep – or incredibly cheap if you're cross-shopping Epic… it's all relative. Here's the alternative: buy upgraded glass for my current rig. A budget that size can by a decent amount of lenses, not to mention some better audio components.
Nevertheless, one can dream.
PHOTOS: Canon EOS 5D Mark III?