If a Kubrick protégé decides to shoot 2012: A Space Odyssey (tip: don't do it), she should have a new iPad emerge from the earth. We, the monkeys, will dance around and throw bones at each other before downloading Flipboard. All hail the new Monolith! And, especially hail that Retina display. Because this is what the new iPad is all about. As an aside, we won't be calling it "New" next year, trust me on that. So, yes, iPad 3 (or 2012).
What matters is that Retina display (2048 x 1536-pixel resolution at 264 pixels per inch). My god, yes, it's full of stars. The resolution is so keen, so crisp that it behooves the imagination.
To the competition I have some unfortunate news: drop what you're doing, call up Samsung and figure how in heck you're going to duplicate what Apple has done here with this beautiful display. Admittedly, it's hard to tell from these photos. I have much to learn about capturing screen shots with my trusty EOS 60D.
It must be brutal to be an Android tablet. As much as I dig the Samsung Galaxy Tab 10.1, it has nothing on the iPad (2 or New or otherwise). The display on the Tab (1280 x800 at 149 ppi) still managed to impress me, even when compared side-by-side to the new iPad. Ultimately it's not in the same league, but we're comparing it to something brand new, fresh out of Shenzhen, Mike Daisy's favorite place.
We can talk about apps, user interfaces, and aesthetics until we're blue in the face – and, on all counts, those go to Apple.
The big deal is surely the display. So much so that I'm willing to overlook iPad's — gasp — slight increase in heft, a shocking blow to every tech law known to mankind.
I'm not so sure that we need e-Readers anymore. I was quite content reading on the iPad 2; with Retina even more so now. Yes, Apple has figured out how you can have your cake and eat it too. As a bonus to Apple shareholders, they're also eating up the competition. In 2016, I don't buy it IDC: Apple will still dominate the tablet market.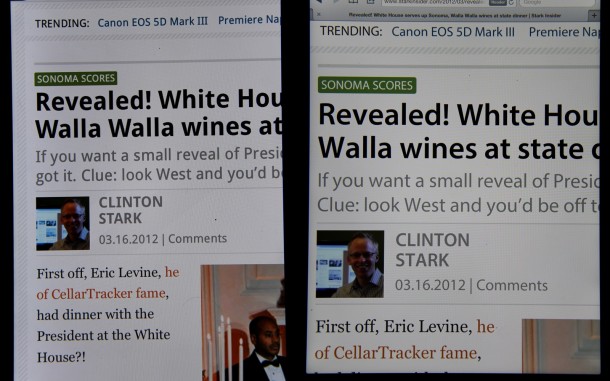 On Naming

I wager a year from now we won't be calling this the "New iPad." – unless Cupertino has something up it's sleeve… like a New New iPad.

In fact, on the Apple web site they refer to it as just "iPad." Makes sense to me. For short: iPad 3. Or iPad 2012 – to be consistent with Apple's historical product naming conventions. I'm not sure why all the fuss. I guess when it comes to naming babies, debates rage on.