If you're looking for a fun weekend project, I though I'd share with you my DIY planter box plans.
I admit I'm a little surprised by the amount of fellow green thumbs out there that have downloaded the plans, and then shared photos of the results.
My last count has about 6,000 downloads.
I was most interested to learn about all the different parts of the world where the planter is being used: New Zealand, Australia, UK, Canada, and even Central and South America. Greetings to my friends from around the world. Also, the plans have been used for school projects, learning centers, and for various non-profit initiatives.
Here's the latest example, from Chet. Take a look at his finished planter: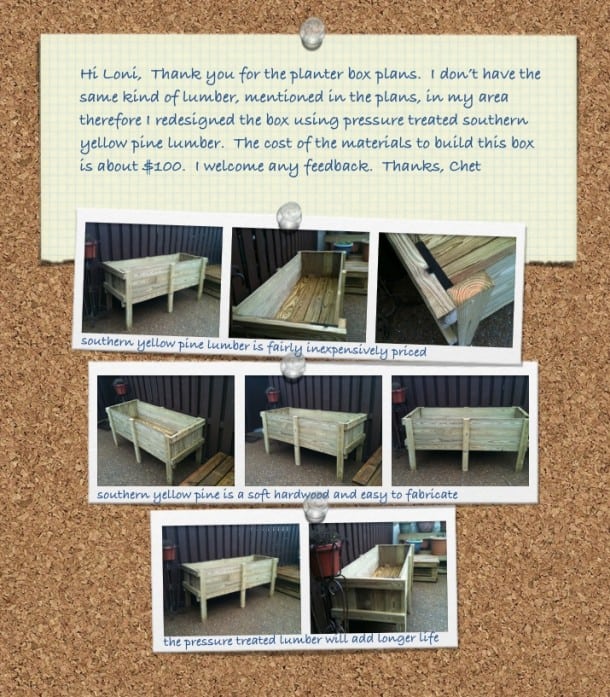 Everyone adds their own flare to the design. Some paint it white, others shorten the height, while some even add canopies. In Chet's case, because he could not source the redwood as spec'd in the plans he improvised and built it with pressure treated yellow pine lumber. Total cost of materials: $100.
Whatever you do with the planter box I can assure you that there's nothing quite like pulling out fresh tomatoes, herbs, and cucumbers, and assembling a fresh "farm" to table salad.
Loni's DIY Planter Resource Guide

If you've been Googling and searching the Web for inspiration, tips and photos, I thought I'd help make your research a little easier. Hopefully the information and links below will get you off and running. It's as easy as 1, 2, 3…

1. BUILD IT

2. GROW IT

3. TASTE IT

https://www.youtube.com/watch?v=my6Pkmh25r0
Happy Gardening! And don't forget to send me your photos, share your thoughts in the comments below, and, most importantly, choose a nice wine to pair with your fresh salads, meals.