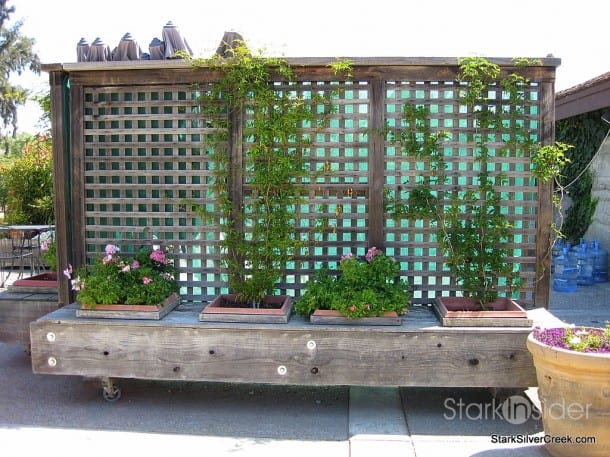 I spent a good part of a scorching Saturday touring the Wente Family Estate Wineries up in Livermore with Karl Wente. We will share stories and videos in future articles on StarkSilverCreek.
For now, I want to share some ideas and inspirations for your container gardens that I discovered this morning as I walked up to the front entrance of Murrieta's Well, a winery owned by the Wente Family which produces 5,000 to 8,000 cases of Bordeaux-style wines.
The article on my Vegetable Planter Box Plans is one of the most popular on Stark Insider (as I like to remind Clint) and when I saw these planter boxes outside of Murrieta's tasting room, I realized that with some modifications to the plans you could transform them into these nice space dividers.
The photo shows the possibilities with the replacement of legs with wheels and the addition of a trellis which also acts as a wall divider, great if you have an area of your yard which you would like to block off.
The other aspect I found inspiring was instead of just filling the box with soil and planting vegetables or flowers directly into the soil, the plants are put into decorative pots which are then buried into the box. This controls the expansion of the plants and also adds additional color to the garden. I have heard this recommendation for herb gardens to ensure certain more prolific herbs do not crowd out the other items in a garden.
Finally, next to the entrance of the tasting room, I found beautiful containers set upon a thick ledge.
Understandably, not everyone has such details on their home or have the luxury of transforming a stately stone building constructed in the 1880's by Louis Mel into a tasting room.
However, you can create this look by going to a lumber yard that deals with reclaimed wood and look for a nice hefty piece of wood, cut a couple of corbels and build a ledge under a particularly bland window and have a great location for a decorative container garden.
Happy gardening!