Graham Gremore is a talented guy. His one man show Private Parts, which enjoyed a world premiere Saturday night before a packed house at SF Playhouse, is a strong vehicle for showcasing his humorous singing, melancholy piano playing, and outrageous story-telling. All told, it makes for an interesting, sometimes swervy-vervy, 90 minutes of theater.
The biographical show takes us to St. Paul, Minnesota where "nothing ever changes." Gremore's mother chain smokes Benson & Hedges, and just wants a new dryer so she doesn't need to hang her panties (underpants!) outside where they continually disappear. Dad, a soft spoken computer software salesman, is an enigma. Slowly, his stuff around the house begins to disappear. First small things like a razor, or toothbrush. Then his desk somehow vanishes in the dead of night. Unraveling this mystery was one of my favorite parts of the show, and Gremore does a marvelous job sprinkling updates to the story line in-between musical numbers and encounters with quirky neighbors.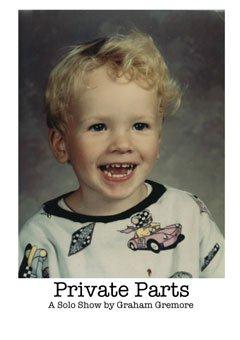 As a child, at least once Gremore tried to escape home. With his older sister Georgia in tow, they started running on the coldest of Minnesota nights. They didn't get far, and Dad picked them up half a block down the street, and merrily suggested they bring jackets next time they plan to runaway.
It was when a second grader explained the meaning of being gay – "You can't be gay unless you  have a job" – that Gremore found his calling. That's what I want! To sleep with a man, get up in the morning, and go to work. That sounds nice.
Gremore impressively jumps from character to character, re-enacting his childhood. Bill English's seasoned direction is immediately evident. The small black box theater (The Sandbox – SF Playhouse's space for new works) is used to utmost effect. Lighting, a small piano, and some hanging windows stylishly fashioned out of cloth are all that's needed to bring the story to life. I found Gremore at his best behind the piano singing alternatively poignant, hilarious songs, such as "Lizard Lady."
I was surprised to discover, though, at the end of the night that I knew most about everyone but Graham himself – sister Georgia, grandmother Mickey, oddball neighbors, and parents all figure prominently. If there's a missing connection perhaps it's that we don't quite get to understand his ambitions, or learn why, for example, he feels compelled to tell this story.
more San Francisco Theater & Arts
After the show, walking down Sutter on a too-good-to-be-true "winter" evening in San Francisco, I reflected in awe at the guts that it must take for a solo performer to put it all on the line like that. This is highly personal subject matter. Graham has crafted something special, that many will no doubt relate to. I contemplated the cathartic process of bringing his story to the stage. I also wondered: has he broken his Harlequin addiction?
Solo shows are one of my favorite forms of theater. The San Francisco Bay Area has seen its fair share of quality productions such as Mike Daisey's now high profile look at the exploitation of Chinese workers (The Agony and Ecstacy of Steve Jobs at Berkeley Repertory Theatre), Trevor Allen's inside look at what really goes on at the Disneyland theme park (Working for the Mouse at EXIT Theatre), and, most recently, Lorenzo Pisoni's recounting of a circus  life (Humor Abuse at A.C.T.). Graham's work is not quite up to those standards (yet), but that's not the point. This is a show with tremendous heart, and watching a young performer uncork some magic before an intimate crowd makes for a memorable evening.
SPECIAL: Backstage at SF Playhouse with Susi Damilano
Private Parts

3.5 out of 5 stars (Sweet Stuff)

SF Playhouse, San Francisco

Starring Graham Gremore
Book, Lyrics, and Music by Graham Gremore
Additional Music and Arrangements by Sasha Smith
Directed by Bill English
The Sandbox – SF Playhouse's lab for new work
Performance attended: February 4, 2012