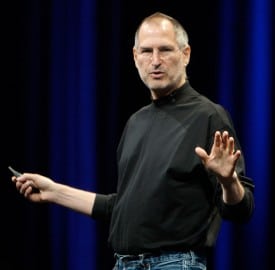 UPDATE 1.18.2011 – In his latest post Mike Daisey addresses Steve Jobs' leave from Apple and the impact (or lack thereof) on his show:

"It is almost impossible to imagine Apple without him, and there's a palpable sense of loss and change as the tech industry struggles to know what this will mean for its future.

We stand at a crossroads, and it is my sincere belief that this story, capturing both his genius and his stubbornness, his brilliance and his ridiculousness, can help turn our attention to how the tech industry can grow up and begin to take responsibility for its decisions."

Read the rest at Mike Daisey's blog. It should make for an even more dynamic and relevant evening of theater. — Clint

Next weekend, another of Mike Daisey's monologues hits the stage at Berkeley Repertory Theatre. Playing in repertory, The Agony and Ecstasy of Steve Jobs tells the "epic story of a real life Willy Wonka."
This morning, Apple CEO Steve Jobs announced that he had permission from the board to take an extended medical leave.
It marks the third time in ten years that he's left the company to address a personal medical issue. In the past he's battled pancreatic cancer, and Jobs had a liver transplant during a six-month leave in 2009.
"At my request, the board of directors has granted me a medical leave of absence so I can focus on my health," Jobs, 55, wrote. "I love Apple so much and hope to be back as soon as I can."
More:

Plus, did you know? The entire world awaits the iPhone 5 with bated breath
According to the show description on Berkeley Rep's web site, during the performance Daisey "examines how the CEO of Apple and his obsessions profoundly shape our everyday lives—and travels to China to investigate the factories where millions toil to make iPhones and iPods."
Stock markets are closed in the U.S. today so we won't know the financial impact here until tomorrow.
So will Jobs' leave impact the show next week? Should it?