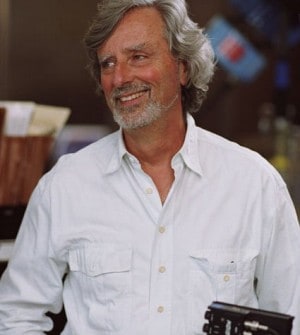 Organizers of the Cinequest Film Festival this morning announced that writer-director Philip Kaufman will receive a Maverick Spirit Award at an event next month. Previous recipients include Kevin Spacey, Sir Ben Kingsley, Spike Lee, William H. Macy, Diablo Cody, and Alec Baldwin. This honor "reflects the essence of the Cinequest spirit and recognizes and celebrates a Maverick who, with purpose and passion, has influenced the world of screenwriting in a unique, positive, and daring fashion."
Born in Chicago, Kaufman attended the University of Chicago and Harvard Law School, but he found film more agreeable to his artistic inclinations after discovering the possibilities of a more personalized storytelling in European cinema and the work of American mavericks like John Cassavetes. His first picture as writer/director, the shot-on-a-shoestring, beatnik-era comedy Goldstein, was acclaimed by French auteur Jean Renoir as "the best American film I have seen in twenty years," and it also received the Prix de la Nouvelle Critique at Cannes in 1965. Luckily for cinema lovers, Kaufman abandoned law for good and plunged into the world of film. He not only creates his own films, he also collaborates with celebrated filmmakers like George Lucas and Steven Spielberg. Though Lucas created the Indiana Jones character, it was Kaufman who created the "Raiders of the Lost Ark" story for the first installment.
San Francisco based, Kaufman writes and directs films with a distinctly American flavor: his work is outspoken and confident, fiercely independent and liberally seasoned with wide-eyed optimism of the human potential, yet tempered by an astute awareness of the insidious dangers of rigid conformism, societal control, and shaky moral ground. His films, though highly personal, have tremendous appeal, due largely to his superb story telling skills. He possesses an innate ability to put down on paper what he vividly imagines and then takes those words and shapes them into characters and images that burrow into the unconscious and pack a collective emotional wallop.
For example, his script for The Right Stuff takes Tom Wolfe's wildly popular book about the original 1960s Mercury astronauts and fashions it into an epic, uniquely American film, chock full of high drama, heroism, and humor. Through Kaufman's adaptation, the events so widely reported in the press and on television come alive in intimate, human detail. We get inside the astronauts' hearts and minds and under their skins and through these men discover our own place in the vastness they were tasked to explore. Kaufman creates a special vehicle for this journey, pulls us into the story, and takes us along for an incredible ride.
Now into his sixth decade in the world of moving pictures, Philip Kaufman shows no signs of slowing down. His highly anticipated film Hemingway and Gellhorn, about the legendary writer's affair and marriage to WWII correspondent Martha Gellhorn, screens this coming May on HBO. Sporting his unmistakable shock of hair and the still brilliant twinkle in his eye, it's obvious that Phil Kaufman's artistic fire still burns brightly.
Cinequest Maverick Spirit Event

Honoring Philip Kaufman

San Jose Rep Theatre

March 9, 2012