Although we're most interested in all the new Android handsets (HTC One X quad-core anyone?) hitting Mobile World Conference next week in Barcelona, there should be a few apps of (Galaxy) note making the rounds.
This morning we learned a few things from Mobiles Republic, the maker of some of one of our favorite news apps for Android, and iOS. One is related to Ice Cream Sandwich.
First, their apps — collectively News Republic, APPY Geek and Glam Life — logged over 100 million page views in January 2012.  That should tell us something about our thirst for news, RSS, and blog content. We're told that close to a million users are now active across their apps. When you see those staggering forecast growth for the mobile ad industry, this might be a small proof point.
Next, if you've used APPY Geek, but were hankering for an iPad version, hanker no more.  You can now head to iTunes to download the iPad edition of APPY Geek.
What we like about the tech-focused app is its emphasis on keywords, or "TagNav." This feature allows you to setup topics of interest such as — let us help you setup your iPad to track key areas of interest: "Android Quad-Core," "Ice Cream Sandwich," "Android app," "Android Tablet vs. iPad." Well, you get the idea…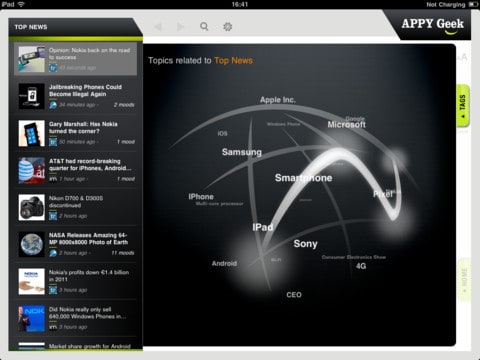 And the final news item for this morning is related to Mobile World Conference.
This is a bit of a teaser, and we won't know what's what until we hit up the Android booth (Hall 8 C25) in Barcelona where we we'll be able to get a hands-on demo.
We're told that the company is "planning to make a major announcement at the conference regarding the future of its flagship News Republic app." We've also been tipped it will be related to Ice Cream Sandwich. Hmmm. Would it be far fetched to suggest we may see a dedicated APPY app for ICS? I like that. APP app for ICS… at MWC.