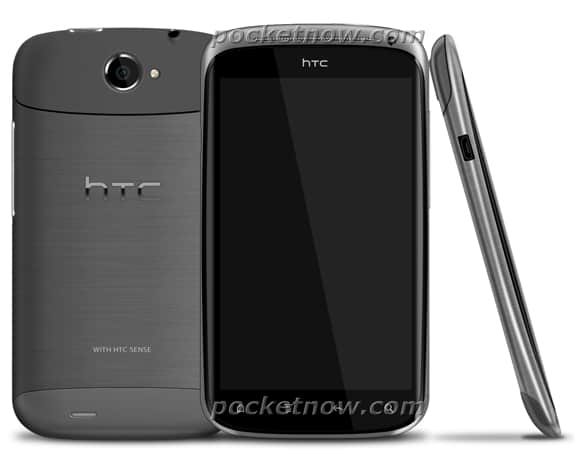 For starters, it won't be called the HTC Edge, or Endeavor. Word is that the new HTC super quad-core Android will be called "One" and come in two flavors.
The first – the one you and I want – comes with a 4.7-inch 720p display, Tegra 3 and is called the HTC One X. The other is a 2011-style dual-core called the One S. I'm telling you right now, I didn't wait 27 months now to swap out my OG Droid for a plain ol' dual-core.
If you've been following along on my increasingly nauseous upgrade dilemma, you'll know I passed on the HTC Rezound (boxy, bla), the Motorola Droid Maxx (great battery, slick design, no ICS and no release date for it in sight), and — gasp! — even the lauded, heralded, revered Samsung Galaxy Nexus (woeful battery… really bad battery life).
CES was a non-starter when it came to knock-your-socks-off Androids. We got crickets… and lots of lame plastic-o accessories. Move along. Though, to be fair, that Samsung Galaxy Note looks tempting. Ultimately, though, it's just too big. Way too big. If I want a device that requires two hands (the size of Lebron James) to use I might as well tow along my Samsung Galaxy Tab.
Ok, then, that's the recap.
Bring on MWC.
We're about 10 days or so from the kick-off in Barcelona, and the hottest device seems to be the HTC One series. I'll have half an eye on the LG X3, no doubt. And there's bound to (hopefully) be a surprise or two. For  now though I'm slotting the HTC One X as the lead dog in the race to replace my trusty, but rapidly aging OG Moto Droid circa 2009.
More Stark Android
What we know, the specs:
— Quad-core with NVIDIA Tegra 3 chip (for those that say it won't matter since apps aren't yet optimized for the additional cores… see me again in 6 months; trust me, you'll want quad-, not dual-core)
— 4.7-inch screen (slightly bigger than Nexus, and I hope better quality)
— HTC Sense (the HTC skin is a controversial beast- score me as one that doesn't like the additional layer. Give me stock ICS, and get those Android updates out to market faster!)
— NO Nexus-like softkeys (bummer that. Context-aware, capacitive buttons seem like the way forward to me. If the retail mock-ups are to be believed, then we'll see regular 'ol Android nav keys on the HTC One)
There you have it.
Release date: we'll have to wait to find out. I'm hoping April, but that could be optimistic.
Pricing-wise: I'm going with $299 for the One X and $199 for the One S (I'd take a Maxx over that).
Quad-core battery life: Ah! The big question! I still believe 2012 to be the year we see better battery life, and more concerted effort by vendors to give us powerful phones that will take us through the work day without forcing us to turn off bluetooth, wi-fi, 4G, etc.
As for a MWC wild-card. Could it be Huawei, the upstart Chinese Android manufacturer?
For now, here's how I'm ranking my OG Droid replacement prospects:
1. HTC One X
2. LG X3
3. Motorola? Give us a quad-core Maxx pls!
4. Samsung Galaxy II S/Advanced
5. Possibly Huawei
Am I on point here?