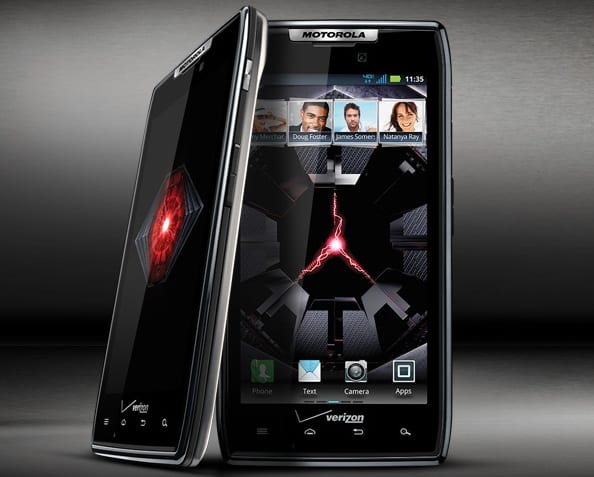 Here's a special deal on a special day. If you're looking to pick up the sexy, uber-thin, and Kevlar-wrapped Motorola Droid RAZR, today is the day to do it. Amazon is offering it for only $111.11 — at about 60% off, that's one sweet deal. The special is good for today only, so get to it and score what many consider to be the hottest Android phone on the market, regardless of carrier.
You probably already know the specs. Just in case: 0.28 inches thin, dual-core 1.2-GHz TI OMAP 4 processor, 4.3-inch Super AMOLED advanced qHD display, 8MP rear camera with 1080p video , 12GB internal storage, 16GB microSD. The regular price is $299 with two-year Verizon contract.
A mass of firstgen Moto Droid customers (like me) are coming off two year contracts with Verizon. And wouldn't you know it, there's a strong field of 4G LTE Android phones hitting the market. It's almost as if they knew this window was coming.
Me? I've short-listed three phones: the aforementioned RAZR, HTC Rezound, and ICS-toting Samsung Galaxy Nexus.
I'm on the fence about the RAZR still, and likely, as I've written before, to strike it as an upgrade choice for two reasons: (1) the early reviews are mixed about the display quality (it's hard to get a straight answer on this); and (2) the battery life is apparently sub-par (though many are pointing the finger at LTE, not the phone design itself).
I have high hopes for Ice Cream Sandwich, and being an ardent early adopter, the Nexus probably makes the most sense. Many aren't talking about it, but the fact that Nexus uses softkeys is a real plus. I suspect all phones will use them in 2012, and likely the next iPhone (and iPad) too. It will peachy when designers and engineers figure out how to use the bezel for soft buttons (maybe holographic?!). Oh, also: yes, please make my phone flexible too. Not sure why- but I like the idea of having it wrap to my contours in my rear pocket.
Hopefully the Nexus is delayed until the end of November, right when I return from my short getaway to the Baja. That reminds me, I better check the mail… an epic adventure awaits. Calling Skyrim!