These are the glory days of tech. I can't recall a period of time–except perhaps back in the late 90's–with such stunning levels of innovation available at impossibly low prices. It can make for a dilemma or two when it comes to us consumers making buying decisions between two advanced, ground-breaking products. Whether it's in automotive (Chevy Volt or Toyota Prius?), DSLR (Canon EOS 60D or Nikon D7000), Smartphones (Motorola RAZR or Samsung Galaxy Nexus) or even cloud computing (Rackspace or Amazon Web Services — hint on that one: Both!).
And now, the filmmakers dilemma.
Both Canon and RED have announced advanced cinema-grade products available at prices previously unheard of. Canon used Hollywood for a press conference to launch the new EOS Cinema system, and an SLR-style movie camera as Wired refers to it, the C300, available early next year for $20,000 with EF or Arri PL mount. Not to be outdone (and reportedly moving its launch announcement up to coincide with Canon), RED is finally bringing its much desired Scarlet X 4K camera to market for $9,750 on November 17. Among many notable Scarlet features is its ability to simultaneously capture 4K video and stills.
The C300 is viewed by many as the natural, though more expensive, evolution of the famed 5D Mark II.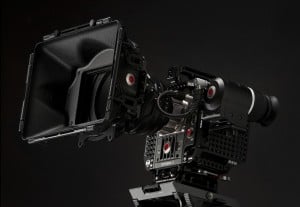 The RED Scarlet X is viewed as a bargain version of the iconic Epic camera.
Both of these cameras feature interchangeable lenses, and can be used with the PL mount used widely across Hollywood. One advantage of the EOS Cinema system is that it will work with existing EF lenses, which could be a real budget saver for some.
UPDATE: Thanks to Will for pointing out that the Scarlet X also features an EF mount (PL optional).
As expected, many are feverishly comparing the two systems. The best, and most informed, threads I could find on the subject are over at Digital Photography Review, and The Verge. General consensus is that RED has upstaged Canon, besting them on both price and performance. Here are some of the comments:
Canon C300 vs. RED Scarlet – Heard Across the Web:

"I've worked with a ton of middle-to-big commercial productions shooting DSLRs and I will assure you none of them are going to jump on this $20k camera any time soon. For that kind of money you might as well go Red but then again, that kind of money is hard to come by even for what you would think of as high budget productions."

"Ha, there goes the C300…Now someone needs to make a budget friendly video camera like one of these…All I need is 1080@24, audio input, and at least micro 4/3s sensor…."

"We have to remember the C300 is meant for large productions, it is to compete with the EPIC, not the Scarlet.
Also, the C300 doesn't look to have as many Rolling Shutter issues as any of the RED cameras (based on the C300 demo video and footage from RED )."
If you want to see the C300 in action, here's a behind-the-scenes look at the short film, Mobius, by Vincent Laforet. In it he describes working with the camera, and the production in general. Product placement ftw.
Mobius – Behind The Scenes
As for me, I can only dream. I don't make films. I make videos for Stark Insider.
I'm still learning the ropes with my EOS 60D and T2i. I'm thrilled by DSLR and what it can do for the hobbyist videographer. Our videos on Stark Insider have evolved over the years as our skills with the cameras, audio gear, and editing software (Adobe Premiere Pro) have slowly improved–at least I hope that's the case! More recently I've started to use color correction, lighting control, stabilization (sparingly), and dynamics and compression for vocals. You will never, ever, though, see me use a 3-D cube rotation for a transition.
But I in particular still have a ways to go with my decisions on cut points, camera angles. Most importantly, I'm still learning how to tell a story; how to make something informative or entertaining, or both. In many cases I think we get caught up in technology and all of the latest whiz-bang, and forget that at its core a video, or film is still about connecting with the viewer. In that regard, the summit is still about 20,000 feet above me. Still, the journey is half the fun, isn't it?
Also, while I love the sharpness of 4K and even just 1080p for that matter, the sample footage that I've seen produces an extreme clarity that can strike against my admiration for that 70s (some 80s) cinematic aesthetic. More recently, for example, I watched the indie Martha Marcy May Marlene (starring Elizabeth Olsen, the younger sibling of the Olsen twins, in a remarkable debut) at the Mill Valley Film Festival, and positively loved director Sean Durkin's soft, grainy look. He helped too that he used slow movements (along with a few well documented tricks), relying less on rapid-fire cuts.
And, finally, because I'm a sucker for punishment, here's some of my latest "work" featuring the Canon EOS 60D, Zoom H1s, and one willing, on-air partner.
Glenn Close – From our MVFF coverage
Disney on Ice – HP Pavilion
30th Anniversary for SJ Rep
Fashion Show for Macy's