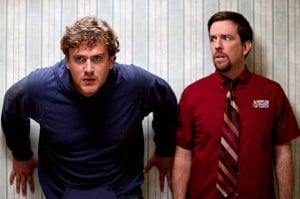 MVFF34 opens tonight in Mill Valley and San Rafael, just north of San Francisco, with screenings of Albert Nobbs and Jeff Who Lives at Home. We'll be on location once again this year to catch some independent films, and also shoot some interviews.
It was an unforgettable opening last year when The King's Speech opened the festival, and later went on to win an Oscar for best picture. This year, there's already significant buzz around Glenn Close and her performance (as a man) in Albert Nobbs. Will the MVFF streak continue? We'll find out.
Regardless of the awards, though, this is a festival that reveres independent film. There is a measured representation of themes, styles. Also there is a significant number of shorts, as well as something for children (this year, a circus theme). Because it's a non-competitive fest, things are quite relaxed and low key, which makes for a really comfortable, enjoyable time. That doesn't mean it's not influential. Far from it. In fact, along with New York and Telluride, it's sometimes referred to as the "great Fall triangle" of non-competitive festivals.
Global Films
My favorite part, though, are the global entries. We've watched screeners of a few really strong ones, notably The Butcher's Wife (China) – not to be confused with the Demi Moore film with the same title! – and The Destiny of Lesser Animals (Ghana). I'm constantly reminded when watching these films–made with tremendous passion–that the world is full of interesting, intelligent perspectives. I'm not bold enough to suggest that I ever come away smarter. That would be monumental and likely require a hospital visit or two. But there's no doubt, watching international films often takes us out of our comfort zones, and, at minimum, informs us and challenges us to see things a different way.
American Films
Domestically, I strongly recommend Being Elmo: A Puppeteer's Journey – who knew behind-the-scenes of Sesame Street could be so riveting? Also, though I'm just about two-thirds through, I'm enjoying the remarkable account of an amazing governor and person in California State of Mind: The Legacy of Pat Brown – it's a fast tempo documentary made by his daughter. It's quite personal, but also informative – Brown was the kind of leader we could use right about now in this State. Also, was Richard Nixon just a wicked wing nut or what?! (see the post-election press conference when he lost to Pat Brown).
This, of course, is just the tip of the iceberg. There are close to 100 films in all.
Canadian Films
Chill on the Hill by director Richard Roy in French with English subtitles, set in rural Quebec.

Eco-Pirate: The Story of Paul Watson – is this Canadian environmentalist a hero, ad madman or something in between?
Bay Area Theater
Those interested in Bay Area theater, or regional history in general (including a fair amount of 60s nostalgia) should enjoy Stage Left: A Story of Theater. I've only seen the trailers — which include locals like Robin Williams and Tony Taccone — and it's definitely on my list of must-sees.
JOCK! START THE ENGINE!
Who can ever forget Indiana running from the Hovitos, while his pilot is fishing off the side of a floating plane? On Monday, in celebration of the 30th anniversary of the great, great Raiders of the Lost Ark (1981) – the Spielberg blockbuster that reinvented the serial and created a lifetime of famous quotes and catchphrases — will receive a special screening at Century Cinema in Corte Madera ($12.50). From what I understand, there will also be a ("very") special panel including the film's creators.
Because… Things Go Wrong… (and I love it)
Expect the unexpected. When we cover these kinds of events we research, we watch, we load up our gear and head out to location… and…  well, expect the unexpected. Like the time Loni botched the film name while interviewing James Franco. It was one of my favorite memories of last year's festival. Why bother, when everything goes right?! "Goofball" – now there's some brilliant cinema I tell you. But what makes this particularly funny (okay, maybe just to me) is for anyone who has seen the film they were discussing, the gripping 127 Hours based on a true story, will realize just how crazy it would've been if it had been 127 Days… then again, there's always the possibility of a sequel involving zombies… watch (at 3:25):