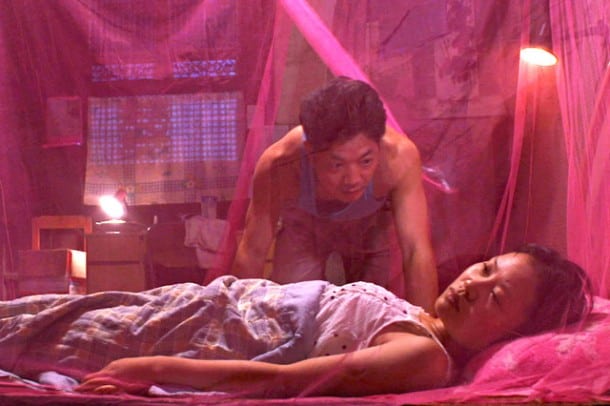 The Butcher's Wife (formerly titled, Wangliang's Ideal…I like the new title) is ultimately a haunting tale of unrelenting obsessions, and what happens when these are constrained by reality. If you are looking for fun, lighthearted amusement, this is not it. If you are seeking a thought provoking, gut-wrenching, heart-ripping odyssey that you will remember for weeks, months and even years after, this is a tour de force.
Director and screenwriter Gao Xiongjie's conjures up main characters with such complexity and grit, I was captivated in the first few minutes of this 2 hour masterpiece.
The story centers around Liang (Fang Ye), a butcher and his wife Qiao (Tang Huihua) who live in a village about four hours bus ride from the Chinese city of Hangzhou. Liang dreams of building a simple, normal life with his wife and a future child in the farm community where he slaughters pigs for a living. His wife, Qiao though is determined to pass her college entrance exams on her fourth attempt and refuses to consummate the marriage for fear of getting pregnant.
The acting is gritty and raw, none of the surreal gloss that covers big budget Hollywood numbers. While real, it is apparent the storyline is expertly crafted. On reflection symbolism and foreshadowing become apparent, but only in hind-sight. It doesn't make the film predicable in the moment. Yet, like fine wine, gives a long finish that reverberates in the mind and heart.
The empathy I quickly developed for both the butcher and his wife bound me to the film. Watching the fate of the couple became my personal obsession and as the film spun into deeper and darker places, I could not tear my eyes from the screen until the final tragic climax.