Last night the stars came out for the opening night of the Mill Valley Film Festival, now underway just north of San Francisco. Tom Hooper, director of The King's Speech, one of two films premiering later that evening, stopped by to talk with Stark Insider about the story behind the film. Also, he explains why it was necessary to enforce a 30-second "anecdote rule" during shooting, which prevented a certain unnamed actor (Colin Firth) from telling long-winded stories.
And Tom Hooper's favorite gadget? Being a director you might be able to guess… find out in this on location interview.
The King's Speech is based on the true account of King George VI (also known as Bertie) whose terrible stammer renders his royal duty as a public speaker deeply challenging and terribly embarrassing. An Australian maverick (played by Geoffrey Rush), a genius in speech therapy–albeit unorthodox–works to solve the King's problem as the country prepares for World War II.
"This is a story of a man who did not want to be King," says Hooper. "Privilege is a complicated notion. It's only a privilege if you're pleased to be there."
Also seen at the pre-screening reception and press conference was Conviction star Sam Rockwell (Iron Man 2, The Green Mile), along with screenwriter Pamela Gray who relied on "lots of index cards" to piece together a story that unfolded over several decades. Conviction is based on a true story and co-stars Hilary Swank who becomes a lawyer in an effort to exonerate her brother who is wrongfully accused of murder.
The MVFF runs through to October 17 and features features, documentaries and shorts from around the world. Clinton Stark is covering the event and will have more on the films, the stories, and, from what I hear, even POP chips.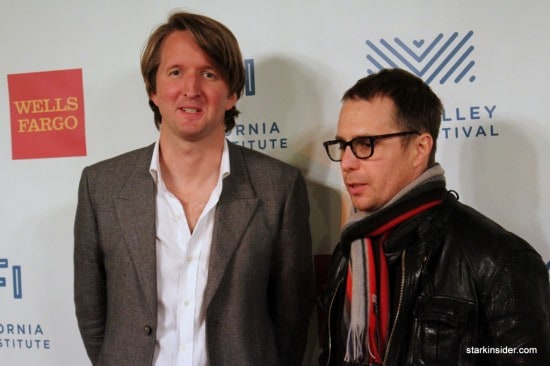 (with contributions from Clinton Stark in Mill Valley)