Lili is a lesbian P.I. who stalks men cheating on their wives. And Rita, the lady who won the Oscar, the Tony, the Grammy and two Emmys, recounts an improbable life.
Yes, the fall theater season kicks off in style tonight. Claire Chafee's comedy Why We Have a Body leads the way at Magic Theatre in San Francisco.
Early themes appear to be: (1) strong, independent women; (2) powerful music; and (3) intelligent comedy.
Also opening tonight is the favorite musical Smokey Joe's Café at Center Rep.
Later in the week big productions, including Spring Awakening (which Bay Area theater fans last saw at Broadway San Jose) and Rita Moreno's Life Without Makeup hit the stages in San Jose and Berkeley.
Here's our lineup of must see shows this week across the Bay Area — from San Francisco over to Berkeley and down to San Jose and up to Palo Alto, Stark Insider has you covered. Check back for reviews, stories, and videos. And be sure to follow our new Facebook page for additional scoops and insider takes on theater, arts and more.  Who knows, you might even find a wine recommendation or two occasionally.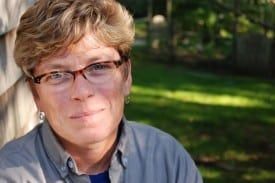 Why We Have A Body
Magic Theatre, San Francisco
Directed by Katie Pearl
Opens: Tuesday, Sept 6
Lili is a lesbian P.I. who stalks men cheating on their wives. When she's not channeling Joan of Arc, Lili's little sister Mary holds up a 7-Eleven and directs traffic. Their mother Eleanor, an archeologist, specializes in—what else?—the female brain. Claire Chafee's comedy returns to Magic as sparkling as the day it premiered to packed houses in 1993.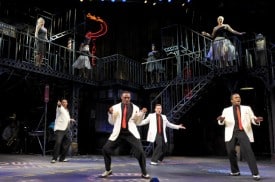 Smokey Joe's Cafe
Center Rep, Walnut Creek
Directed and Choreographed by Robert Barry Fleming
Opens: Tuesday, Sept 6
This Tony Award-winning tribute to legendary songwriters Leiber and Stoller is a fast-paced nostalgic trip through 39 of rock-and-roll's greatest hits from "Stand by Me" and "Fools Fall in Love" to "Spanish Harlem" and "Yakety Yak." Award-winning Director Robert Barry Fleming returns to Center REP where he previously helmed such REP hits as Ain't Misbehavin', All Shook Up, and She Loves Me.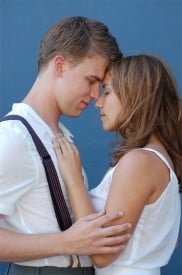 Spring Awakening
San Jose Repertory Theater
Directed by Rick Lombardo
Opens: Wednesday, Sept 7
Caught between their sexual urges and society's contradictory teachings, a group of teenagers reveals their alluringly melancholy story of self-discovery and coming-of-age anxiety as seen through the eyes of young teenagers. Set in repressive 19th-century Germany, these students attempt to reckon with the thrilling, complicated and confusing time of their sexual awakening. This haunting and provocative rock-musical is a powerful celebration of youth and rebellion in a daring fusion of morality, sexuality and rock & roll.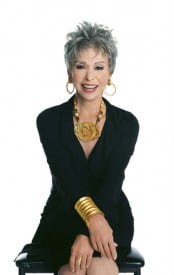 Rita Moreno: Life Without Makeup
Berkeley Repertory Theatre
Directed by Tony Taccone
Opens: Wednesday, Sept 7
During her spectacular career, Rita Moreno has portrayed some tough women, from Anita in West Side Story to Maria Callas in Master Class. Now this legendary performer takes on the toughest woman of all—herself. The star of stage and screen returns to Berkeley Rep for the first time since her sold-out run in The Glass Menagerie. Rita recounts her improbable life in an irreverent and entertaining new show that features a lively band and two expert dancers. Expect another breathtaking performance from the lady who won the Oscar, the Tony, the Grammy and two Emmys.
Recent Reviews